Ad Rates and Terms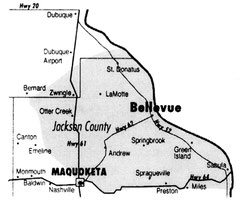 OPEN RATE $7.50 per column inch
RERUN RATE $6.35 per column inch
Reruns - 15% off initial price
Special Pricing
1/4 page $170.00
1/2 page $270.00
Full page $430.00
Front Page Advertising
Call for information
Classified and Legal advertising rates are available upon request.
One Color $85
Full Color $250
Color/moment $63
Established customer accounts payable by the 10th of the month following month of charge. 1.5% per month service charge on accounts over 30 days. This is a charge of 18% per year.
SPECIAL COMBINATION RATES
Place your advertisement in the Herald-Leader and rerun it in these affiliated newspapers, receiving total saturation coverage in those markets at a low combination rate. Please ask for rates.
Maquoketa Sentinel-Press (circ. 3,800) & Buyer's Guide (circ. 7,500)
Eastern Iowa Bizzy Bee (circ. 22,000)
DeWitt Observer (circ. 7,000)
MECHANICAL INFORMATION
Pages are 6 columns (10.5") wide by 16" deep
1 column 1.611" (9p8)
2 columns 3.417" (20p6)
3 columns 5.167" (31p)
4 columns 7" (42p)
5 columns 8.75" (52p6)
6 columns 10.5" (63p)
Classified Rates
$5.00 for the first 20 words and 25¢ a word for any word after 20. Classified deadline is 11am on Monday. Combo prices for the Buyers Guide and Bizzzy Bee is 1/2 of your total in the Herald-Leader.
POLITICAL ADS
Political advertisments and other advertisements that attempt to influence public opinion on particular issues must carry the name of the organization responsible for the  advertisement and the name and address of at least one person connected with the organization. Such advertisements must meet Iowa Code requirements, AND MUST BE PAID IN ADVANCE.
The Herald-Leader reserves the right to reject or cancel any advertisement at anytime. Cancellation will not be accepted by the Herald-Leader after the deadlines specified above.
The Herald-Leader will be liable for any error or omission, or for a failure to insert any advertisement, only to the extent of the cost of the actual space occupied or to have been occupied by that advertisement.
Publication day is Thursday - papers are available in the stores and in our office on Wednesday.
ADVERTISING  DEADLINES:
Classifieds - MONDAY AT 11 A.M.
Display Ads - FRIDAY AT NOON