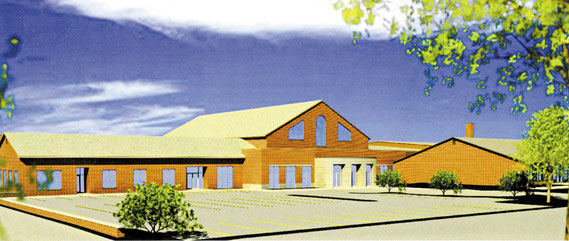 $3 million capital campaign underway to build community center at Marquette and St. Joe's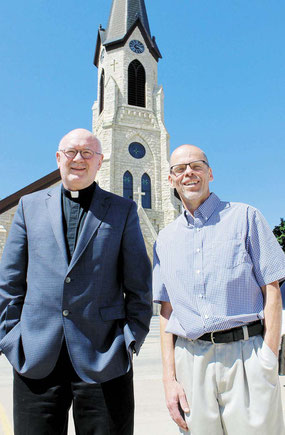 Officials at St. Joseph's Parish and Marquette High School are officially kicking off the third phase of a multi-million dollar expansion project in Bellevue.
With a new high school opened last fall and the razing of the old 1930 St. Joe's school building last summer, the third phase will include a new community center, paved parking lot and multi-function parish facility with meeting rooms and full kitchen.
The new facility will be constructed on 5th Street adjacent to the 1996 Marquette Education Center. All building, including the 1964 elementary buildings, will be connected.
To raise the funds needed for the third phase of the project, officials are kicking off a capital campaign called "United We Build," with a goal of raising $3 million.
Bellevue's Chris Lampe has been selected as the Capital Campaign manager.
"We feel fortunate to be part of St. Joseph's Parish and the Bellevue Community. People here and our surrounding communities are quick to be helpful to those in need and we show time and time again we truly care about our neighbors," said Lampe, who noted that in the past two years the parish has been blessed with major improvements to Marquette schools. "Our needs to not end with the high school renovations and new classrooms. READ MORE BY CLICKING ON E-EDITION.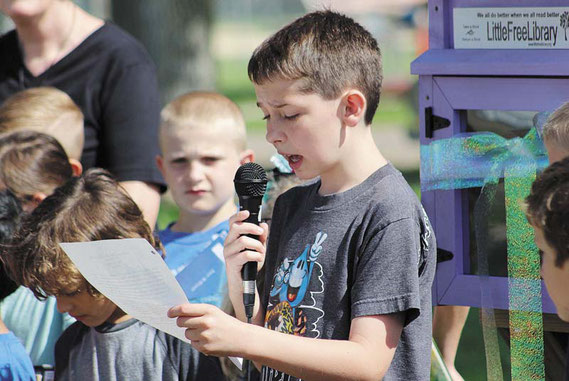 Bellevue Rotary; local schools dedicate first little library at Cole Park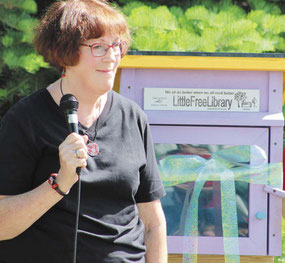 On a beautiful spring morning last Thursday, elementary students from both Bellevue and Marquette gathered near the entrance to Cole Park for the official dedication of the first "Little Free Library" in Bellevue.
Little Free Libraries are homemade boxes through which people can share books. There are 32,000 such libraries throughout the world, with about 30 in Dubuque already.
A concept is a "take a book, return a book" free book exchange. In its most basic form, it's a wooden box of books where anyone may pick up a book or two, or bring a book to share.
Initiated locally by retired school administrator Linda Nudd, who is also the coordinator for the Jackson County Campaign for Grade-Level Reading program, the program was inspired by its creator Todd Bol, who held a workshop on the program in Dubuque last fall. That's where Nudd got in on the action.
She invited Bol to Bellevue for a talk, and along with members of the Bellevue Rotary Club, the Little Free Library program was initiated across Jackson County.
While Nudd and teachers from both schools were present, young Memphis Jess of Bellevue Elementary was bestowed the honor of speaking at the dedication, as well as cutting the ribbon to officially open the Little Free Library, which is located on the southeast side of the park near Marquette High School. READ MORE BY CLICKING ON E-EDITION AT RIGHT.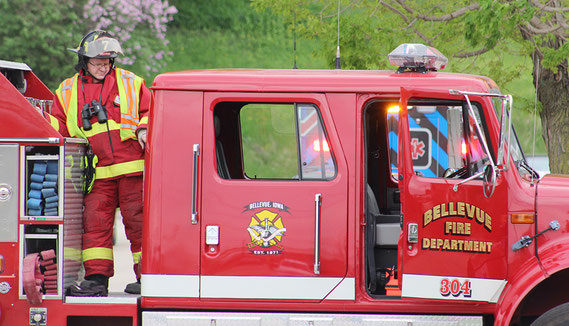 Train derailment simulation drill in Bellevue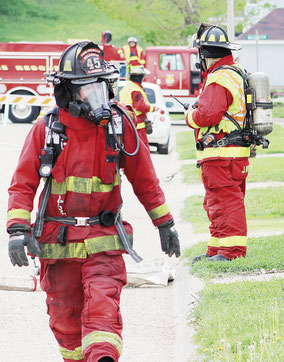 It was about 8:14 a.m. last Saturday morning when a call was made to local emergency responders that a "train derailment" had just occurred in Bellevue in the area behind Horizon Lanes.
A swarm of about four dozen fire fighters from Bellevue and La Motte, along with dozens of others from the Bellevue Police Department, Bellevue EMS, Bellevue Municipal Utilities, Jackson County Emergency Management and the local Red Cross were all on the scene in mere seconds.
That's because they were already there.
It was all part of a train derailment simulation exercise to gauge the preparedness of local officials, as well as to prepare a solid emergency response plan in case an actual derailment were to occur. With recent derailments, like the one near Galena last year, officials and residents are aware it could indeed happen.
And here in Bellevue, with a rail line cutting through the heart of the city, it could be a disaster with fatalities.
The simulation portrayed a scene in which a train carrying crude oil derailed while travelling through Bellevue. Instead of actual tanker cars from a train, a tanker from a semi truck was used.
A command center was set up while police and firemen went door-to-door evacuating residents... READ MORE BY CLICKING ON E-EDITION AT RIGHT.
Bellevue duo hosting the first annual Great Mississippi River Cleanup in local area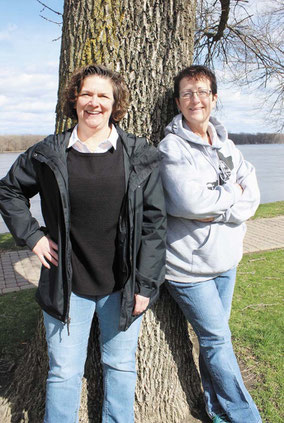 Two Bellevue residents who are clearly in tune with nature's beauty are spearheading a new effort to clean up the Mississippi River in the local area.
Mary Hurley and Mickayla Jess are joining in a cause initiated by the Living Lands and Waters (LLW) organization to inspire communities to host an annual cleanup event.
Hurley and Jess are hosting the first annual Great Mississippi River Cleanup in Bellevue on Saturday, May 21 beginning at 9 a.m.
Folks who want to join in the cause are asked to meet at the trout pond south of Bellevue near the DNR Fisheries Station to begin the task of picking up garbage and debris from the river in the area where Mill Creek meets the Mississippi.
The LLW organization will provide garbage bags, gloves and volunteer T-Shirts. Hurley, Jess and company, will provide snacks and refreshments. A flat bottom boat will also be used for part of the effort to get out in the water and clear debris trapped on natural fish habitats.
Jess, a 20-year veteran employee at Rockwell Collins in Bellevue; and Hurley, who commutes to work in Dubuque at McGraw-Hill Publishing, are great lovers of the river. 
"This is such a beautiful place along the river here in Bellevue, and we should all take better care of it. We wanted to do our part to clean it up," said Jess. "We decided that we would model our efforts like the annual clean-up in Savanna, which is a huge success each year." READ MORE BY CLICKING ON E-EDITION AT RIGHT: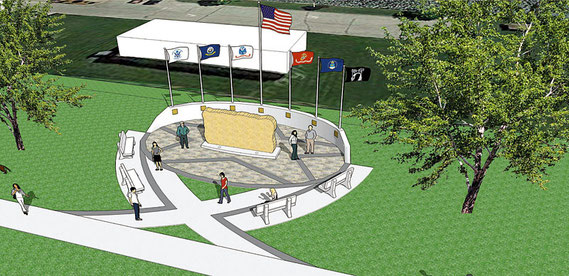 New Veterans Memorial Plaza to be constructed along Bellevue's riverfront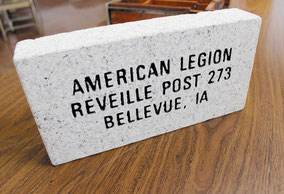 It will be a patriotic tribute to all veterans - a fitting location along the mighty Mississippi where family, friends and fellow soldiers can honor those who have served our country so honorably over the past two centuries.
Plans for the new Bellevue Veterans Plaza, with a large painted "Freedom Rock" as the centerpiece, are moving along nicely, according to Bellevue Legion Post #273 Commander Rob Roben, and grading and construction of the new memorial will be getting underway in a few weeks.
The location of the memorial plaza will be in the area just north of Subway on Riverview, which overlooks the river, as well as Lock and Dam 12. The new plaza is a project of the Bellevue American Legion, in conjunction and cooperation of the City of Bellevue.
The sale of memorial pavers, which will help defray the cost of the project, is also officially underway this spring. The pavers are made of white granite and will have the name of veterans, as well as branch of service and years served engraved in them.
The memorial pavers will make up the walkway around the future Freedom Rock, which will be painted with a special design by Greenfield artist Ray Sorenson, who plans to paint similar freedom rocks in all of Iowa's 99 counties. READ MORE BY CLICKING ON E-EDITION AT RIGHT.
Bellevue students win state honors for IHSAA commercial; earn $1,000 for school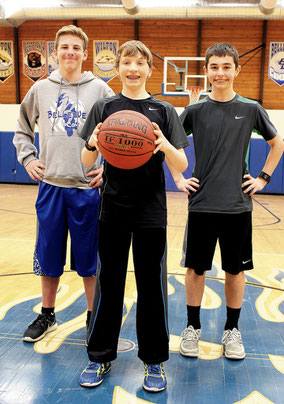 The creative work of three young Bellevue Middle School students, which was seen by tens of thousands of folks across Iowa this past weekend, has recently garnered $1,000 in scholarship funds for the local school district.
A 15-second commercial created and produced by Bellevue students Ben Parker, Andrew Swartz and Abe Steinbeck was aired during the Iowa Boys State Basketball Championship last Saturday night.
Their commercial, recorded on a iPhone and edited in YouTube, received second place in the  "Conduct Counts" series, a comprehensive program sponsored by the Iowa High School Sports Network and the Iowa High School Athletic Association (IHSAA)
The program, which features several project categories, was designed to promote and develop proper conduct, etiquette and behavior by students, athletes, parents, officials and fans who choose to be involved in educational and sporting activities.
A project of Mrs. Tracy Weber's eighth grade documentary class; the short commercial features Andrew Swartz spinning a basketball on his finger while discussing proper relationships between parents and coaches during live sporting events. READ MORE BY CLICKING ON E-EDITION AT RIGHT.
Gwen's Pet Grooming of Cedar Rapids opens new facility in Bellevue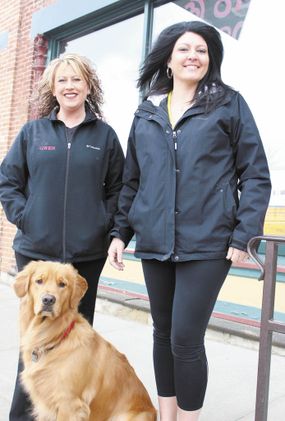 According to Carli (Roling) LaCoursiere, people are having less children and more pets these days.
And that's just one of the reasons why there's a new pet grooming business opening in Bellevue later this month, where patrons can pamper their pooches or finesse their furry felines.
Located at the former location of the Happy Bean at 122 North Riverview, Gwen's Pet Grooming will host a grand opening gala from 9 a.m. to 5 p.m. on Saturday, March 12.
LaCoursiere, who will manage the Bellevue location along with owner, Gwen Damisch of Gwen's Pet Grooming, Inc. in Cedar Rapids, will offer free nail trimming for all dogs and cats, as well as free hot dogs, chips and drink during the grand opening festivities.
The new Bellevue location is an expansion of the Cedar Rapids business, where Gwen's Pet Grooming has served over 8,000 pet owners with a variety of services.
LaCoursiere, the daughter of Bellevue Mayor Chris Roling and his wife Linda, is a 2002 graduate of Bellevue High School who went on to earn her degree at Capri College of Hairstyling.
She has worked for Gwen's Pet Grooming in Cedar Rapids for the past four years, where she was considered a top groomer.
"Along with haircuts, shampoos, nail trims and flea and tick elimination, patrons of Gwen's Pet Grooming can dye their pets any color they like," said LaCourseire. "It's more than just grooming, we do a lot of fun stuff too. And now, we're right here in Bellevue, so we can take care of your pet without having to leave town."
Gwen's Pet Grooming is owned and operated by Damisch, one of the most experienced and talented groomers in Cedar Rapids. She has worked in the business for 24 years – from small shops to large corporations like Pet Smart, when it comes to dogs and cats, Gwen has seen it all.
As an owner of the successful Cedar Rapids operation, she said the new location in Bellevue is one of several new locations she plans to add.
Bender's Foods marks 25 years serving Bellevue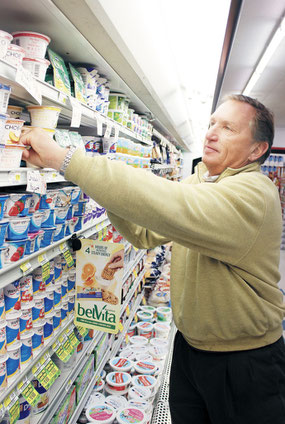 To many Bellevue residents, it doesn't seem all that long ago, but 2016 marks Bender's Foods 25th year in business.
It was exactly a quarter-century ago this winter when Randy and Marta Bender announced plans not only to open a new supermarket, but to build an entirely new 13,000 square foot-building on south Second Street, right on the location where the old Bellevue Train Depot sat for so many decades.
The grocery store offers about 20,000 different items, as well as a full-fledged deli and walk-in beer cooler and employs dozens of local residents, rivaling stores in much larger communities.
"We chose Bellevue for a new store 25 years ago because we wanted to raise our children in this wonderful community and provide them with a good education," said Bender, who has been a strong supporter of Marquette Catholic over the past two and a half decades.
In fact, the Benders were integral in helping to raise millions through leadership in capital campaigns for the school, which resulted in the construction of the Marquette Education Center (MEC gymnasium) in the mid-1990s.
"We grew up Catholic, so we were looking for schools, and Bellevue Marquette really stood out as a top-notch school," he noted.
When the Benders first announced their plans for the new store, there were already two grocery stores in town at the time, the Big D Super Value and Mottett's Jack and Jill. But Bender did his research and found that there was a lot of "leakage" to other larger stores in bigger towns, and a new larger store would serve the community better.
"I called both owners and asked them if they wanted to sell," recalled Bender, who opened his new store in the summer of 1991. "They didn't sell at the time, but nine months later, they finally agreed, and there was no looking back."
Bellevue's Reeg shares his passion for music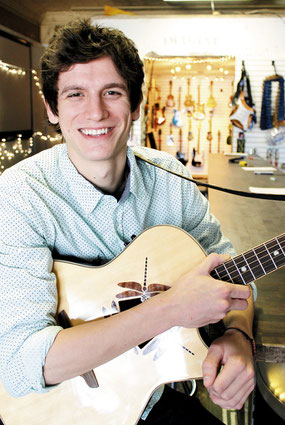 To Bellevue's Bryce Reeg, music means everything.
A 2012 graduate of Marquette High School, the young musician was in California last week at the National Association of Music Merchandisers, and is planning a trip to Nashville in the summer to attend a writer's workshop and do some networking with those in the music industry.
Along with him, he has scores of songs, which he has written and arranged, which will soon be professionally recorded. The plan is all coming together for the young 22-year old singer-songwriter, who hopes to share his passion with the world.
Right now he is sharing that passion locally as the "house band" of sorts at Bellevue's Lock 12 Music, which has also become a hit with the local public. Reeg plays there most every Thursday, drawing crowds and loyal fans from across the area.
 The son of Ron and Denise Reeg of Bellevue, Bryce was only three years old when he started his adventure in music.
"My uncle Brian Ernst had a group he played when I was only 3 or 4 years old," said Reeg. "I guess that's where it all started. By the time I was in fifth grade, I was sitting in with bands at Jam at the Dam events every Friday. My dad always encouraged me and would arrange it so I could play part of the last set with the local guys. It was fun." READ MORE BY CLICKING ON E-EDITION AT RIGHT: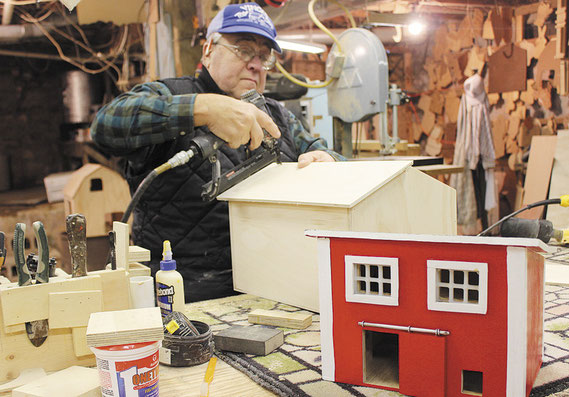 Vince's Toy Shop a Christmas tradition
Vince Kilburg, by all appearances, appears to possess a serious, stoic personality. The life-long farmer and former pork producer has worked hard for many decades raising a family and being a good steward of the land at his farm in rural Bellevue.
But if you dig a bit deep deeper, you'll discover that there's a just hint of Santa Claus within.
In fact, young and old alike for decades have experienced the Christmas morning joy of opening gifts to find small barns, doll houses, wooden puzzles and more – all carefully hand-crafted by Kilburg himself at what is known to many in the area as "Vince's Toy Shop."
Located at 31980 167th Street southwest of Bellevue, Vince's Toy Shop has been around a long time. Of course, Christmas time is the busiest season for the shop, and once again this holiday season, Kilburg is busy sawing, sanding, gluing and putting the finishing touches his fine scale model creations. READ MORE BY CLICKING ON E-EDITION AT RIGHT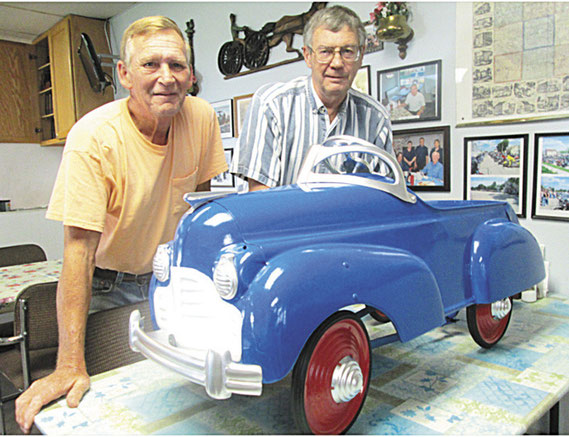 She's a Beauty: 1941 pedal car a family heirloom
Seventy-four years after it was made, a Murray Steelcraft pedal car, modeled after the 1941 Chrysler, has a new lease on life and become a new heirloom for a local Bellevue family.
The child's toy was left behind when an Andrew family packed up and moved to California. "It belonged to Larry McGowen and it ended up with us when they moved out to California because of hay fever problems," notes Eldon Hoerschelman who owns the pedal car now.
The metal child's toy was stored for years in the granary on the Harry Hoerschelman farm southwest of Andrew. It was moved to the basement of the farm house there and later at the residence of Hoerschelman's sister, Gloria Petesch, rural Bellevue.
Now rusted and pitted, the  condition of the paint and metal had of course deteriorated through the years. There was the problem of a missing hub cap and fender ornament as well. It needed new tires.
Enter Milton Cornelius, Andrew. The car and tractor restoration enthusiast agreed to give the old car a new lease on life. Cornelius found the missing and replacement parts for the little car on the internet. Some body work, a fresh coat of paint and new parts and the little car will delight another generation of youngsters.


City of Bellevue launches rural wireless service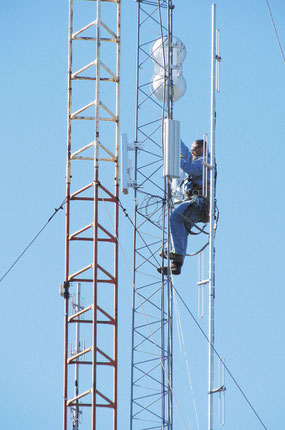 Bellevue's Josh Scheckel wasn't going to take no for an answer.
The longtime businessman, who frequently buys and sells large earth-moving equipment during live online auctions across the world, needed reliable high-speed internet for his business.
He kept asking if he could be connected to the Bellevue Broadband Internet system, but since his business was outside the city limits, it was cost prohibitive to run and bury a fiber optic line several miles west of town.
But city leaders decided that the demand was there and contacted their digital consultant Mike Palm, who together with local utility workers, did some testing at J.J. Scheckel Heavy Equipment and found a viable solution.
This was the catalyst new Bellevue Wireless Broadband Internet service, now available to customers in the rural areas of eastern Jackson County.
With an investment of time and special equipment, Bellevue utility workers under the direction of Bob Ploessl climbed the big bluff by the water tower to install a new wireless antenna over 100 feet above the city.
Then after a bit of connecting, testing and adjusting, Scheckel was up and running with speeds he had never before experienced.
"Obtaining this fast, reliable and affordable internet service was absolutely crucial for our business," said Scheckel. "Bellevue has delivered and satisfied our needs completely." READ MORE BY CLICKING ON E-EDITION AT RIGHT.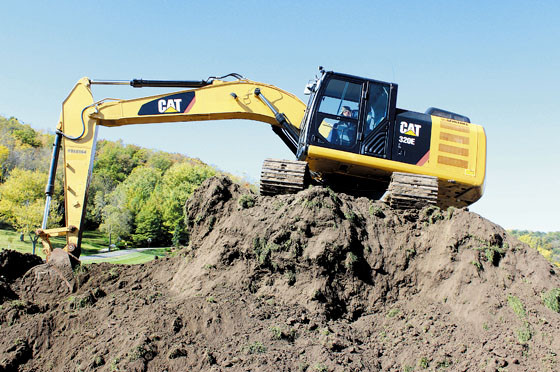 Second Little League field being added near Ensign in Bellevue
The construction of a second youth ball field at the outdoor sports complex near Ensign Corporation in full swing this fall.
The estimated $100,000 expansion project is a result of generous Bellevue citizens who are donating their resources and time to make the new ball field a reality.
When completed, not only will Bellevue have adequate room for its massive Little League program, which has over 250 youngsters participating each year, it will also be able to host regional and state tournaments, which could bring hundreds and hundreds of people to town each summer.
"As in typical Bellevue fashion, several great and generous people in the community have come together to make this happen," said Mike Griebel, President of the Bellevue Youth Ball Association, who noted that a second field had been discussed before.
"After seeing how many kids and how many fans from Bellevue come to out-of-town tournaments every year, the state Little League Commissioner really thought we should have this so we could host these big tournaments here. Now we can."
Last week, workers from J.J. Scheckel Heaving Equipment were moving massive amounts of dirt to make room for the second ball field, which was hauled away by drivers from Bellevue Sand and Gravel. About 6,000 cubic yards of dirt had to be removed to make the field level and large enough for tournament play. READ MORE BY CLICKING ON E-EDITION AT UPPER RIGHT.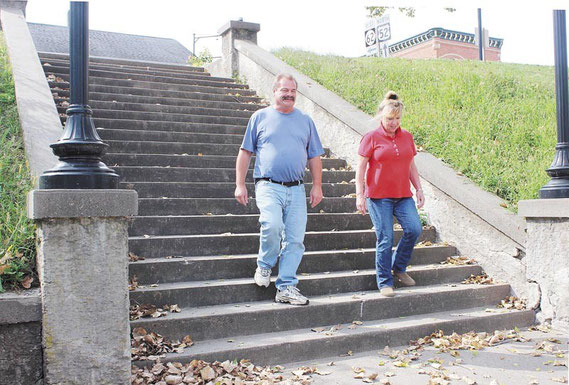 Century-old stairs on Riverview may be in need of costly repairs; council to review options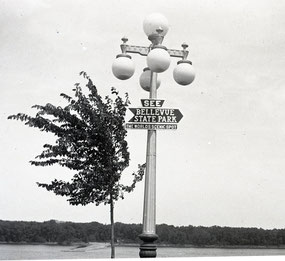 At the intersection of State and Riverview sit many features in this river community whose history goes back to steamboating days when the area served the old vessels with warehouses and docks for goods shipped to and from Bellevue.
Prior to the Lock and Dam, steamboats once docked directly at the lower level of what is now the municipal parking lot.
The stairway leading down from Riverview Park to the lower level is where excursion steamboats used to dock and pick up and discharge passengers.
That stairway, which has been a gateway of sorts to the community for well over a century has recently come under scrutiny, and city officials were informed of the need to repair the old stairs at last week's Bellevue City Council meeting.
City Administrator Loras Herrig told the council that city parks and sanitation worker Warren Crouch had brought the deteriorating condition of the stairway to the attention of city hall and presented a number of options to handle the situation, ranging from total replacement to downsizing the stairs to total elimination. Herrig said the fix to keep the entire stairway could cost upwards of $50,000.
Councilman Tim Roth, who took a close up look at the historic structure, said he thought the stairs themselves were in good shape, but the walls on either side could use some repair.
While no decision was made concerning the stairway, council members were advised to make their own assessment and work with Crouch on a solution. Members of the public, as always, are always invited to provide input on the stairway by calling or writing to Bellevue City Hall. READ MORE BY CLICKING ON E-EDITION AT RIGHT.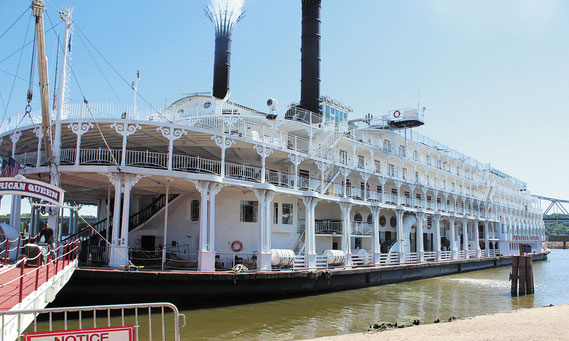 ALL ABOARD THE AMERICAN QUEEN
Bellevue's Captain Blitgen provides a look inside the largest Steamship in the Mississippi River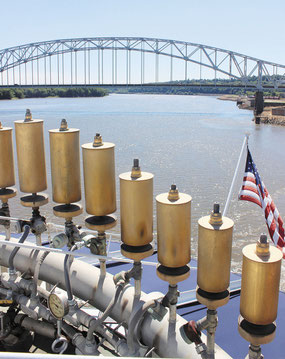 The largest steamship on the Mississippi, the American Queen, locked through Bellevue last Wednesday evening around dusk as scores of folks flocked to the riverside to watch it glide slowly by.
Earlier in the day Captain Mike Blitgen, who pilots the massive ship, invited the Herald-Leader up to the port of Dubuque where the Queen was docked for a first-hand look inside the vessel before it headed down to the Captain's hometown in Bellevue.
The elegant interior of the boat includes the Mark Twain Room, the Grand Dining Room, The Captain's Bar, a scale replica of the Ford's Theatre where President Abraham Lincoln was assassinated and Blitgen's favorite area "The Front Porch," where passengers dine outside on the upper deck.
A swimming pool and exercise room on the top floor are also part of the ship, as well as a large gift shop and 222 guest rooms.
Local folks on board as the American Queen that came through Bellevue included wife Elaine Blitgen and the Captain's father Richard Blitgen, who he lovingly referred to as "Old Man River."
Other souls on board included 376 passengers and 160 crew members.
"We did have the Melton family from Bellevue on the previous cruise, and we even had a 'Captain's Dinner' together," said Blitgen. "I don't know about them, but I sure had a good time."
Besides the social aspect of being a Captain aboard the American Queen, Blitgen has a major responsibility in piloting the giant vessel up down the Mighty Mississippi. He said the the challenges of navigating the American Queen is similar to any commercial vessel. 

"Unexpected mechanical failures, weather, and high or low river levels have to be dealt with where you happen to be and whenever they happen," Blitgen explained. "The specific challenges we have to deal with being a passenger vessel is meeting our schedule during unexpected events like this, and keeping the passengers safe and accounted for."
The giant ship is piloted from the "wheelhouse," which actually retracts downward in case of high water or low bridges. The giant black smoke stacks can also fold down.
"We don't like to fold those down if we don't have to because of the soot that spills out," said Blitgen, who noted that the ship is powered by steam boilers, much like the steamships of old. READ MORE BY CLICKING ON E-EDITION AT RIGHT

Six original Bellevue bands will reunite Saturday at Cole Park for Reunion on the River
It may have been a direct result of the Beatles and the Rolling Stones – added with another wave of bands like the Who, Led Zeppelin, Creedence Clearwater Revival and the Doors, and a golden age of rock music was sweeping across the country in the late 1960s and early '70s.
That musical trend was quite obvious here in Bellevue back in those days, as live music poured out of garages and bars, with the sounds of bar chords and blues riffs wafting down the Mississippi River on most evenings.
Tom Sawyer would have loved it.
"There were a lot of bands in Bellevue – anywhere from 12 to 15 at one point - and they were all local high school kids like us," said Jeff Theisen, a former member of "Slightest Idea," a local band that was formed in 1969. "Everyone wanted to be in a band. It was the thing to do."
Many of these former bands who played in the Bellevue area over 40 years ago will reunite this Labor Day weekend for an event called Reunion on the River II, which will feature six local bands playing live at Cole Park beginning Saturday, Sept. 5 beginning at 2 p.m. All proceeds will go to the Bellevue Community Club.
The musical event was organized by John Long of Bellevue, who also played in a local garage band many decades ago. The first Reunion on the River organized by Long in 2013, raised about $13,000, which was split between Bellevue and Marquette schools.
Bellevue's Dave Valant, another member of Slightest Idea, which will play a live set Saturday, said it was a lot of work playing in a band, it was also quite fun.  
"We'd practice in what we called "The Pit," the old house across from the Bellevue elementary school," said Valant. READ MORE BY CLICKING ON E-EDITION

BAND LINE-UP
Reunion on the River II will take place at Cole Park  on Saturday, Sept. 5 starting at 2p.m. Several bands from past eras have volunteered to play music all afternoon and evening.  The event is being hosted by the Bellevue Community Club and food and beverages will be served. 
Bands include (3 p.m.) Sweetwater (Steve Sieverding, John Hinke, Bill Sieverding, and Denny Krueger); (4 p.m.): Hazenville Dust (Steve Haferbier, Steve Lucke, Dan Eggers, Gerry Kuhl, John Hinke); (5 p.m.): Devil's Disciples (Jim Theisen, Steve Lucke, Dan Eggers, Steve Sieverding and Denny Krueger); (6 p.m.): Slightest Idea (Jeff Theisen, Carl Etting, Jeff Maroff, Dave Valant, Calvin Pannell, Jill Davids and Casey Yeager; (7 p.m.): Stone Heart (Mark Theisen, Bruce Kilburg and Steve Haferbier); and the (8 p.m.): Gypsy Pistols (Chris Bandy, Ken Kline, Dave Ripperger, Tim Lutz and Steve Krejci).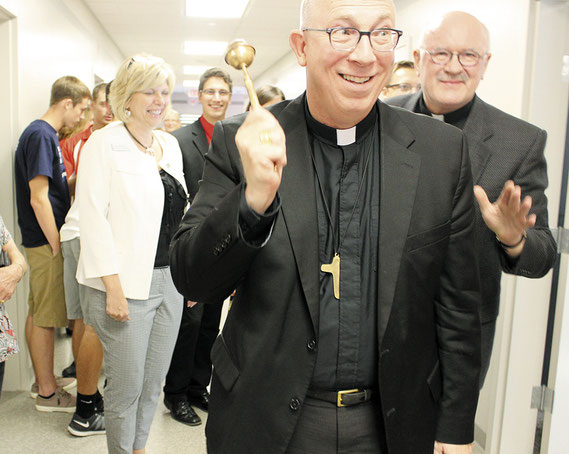 New Marquette High School rooms officially blessed by Archbishop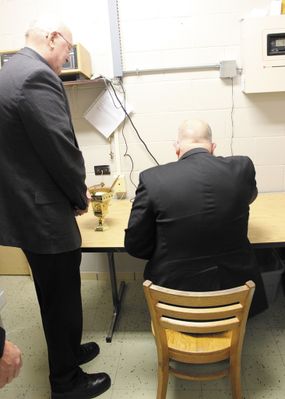 Archbishop Jackels joked that he felt a little bit like Radar 'O Reilly from the classic television show M*A*S*H when he sat down at the Marquette intercom system to deliver his opening address.
It was all part of the official blessing of the new Marquette Catholic High School in Bellevue last Thursday, in which hundreds of parishioners, alumni and students lined the hallways of the new facility to watch the Archbishop sprinkle Holy Water in rooms and shake hands with those present.
According to Father Kruse of St. Joseph's Catholic Church, the blessing and ritual was a way to signify that the work done on the new school is "In the name of God."
The new 7,200 square-foot high school, which is attached to the original 1957 high school opened for classed this week as the 2015-16 school year is now underway.
This is a very exciting time in Marquette's long history.  I am honored to have the opportunity to serve at a school with such deep traditions, a foundation in faith, and a vision for the future.  Our new building begins a new chapter but the story remains the same - Growth in Mind and Spirit," said Principal Geoffrey Kaiser, who noted that classes at the new Marquette High School will begin on Aug. 24. He said many of the schools teachers, staff and alumni have volunteered much of their summer to prepare the new educational facility.
"Archbishop Jackels' blessing reminds us that each brick and brush stroke were added to create a center where God may use our hands to do His work," said Kaiser.  "Every person who contributed to our vision has provided our students with the unique opportunity to be taught holistically.  In blessing every classroom, we remember that every student is important, that God is our focus, and that to serve God we all serve each other."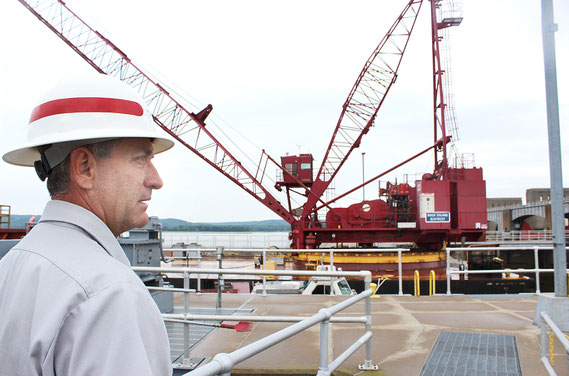 Bellevue's 90-ton lock gates being replaced
Bellevue's Lock and Dam 12 is undergoing a major overhaul this summer.
Maintenance crews from the Army Corps of Engineers, Rock Island District, are in town with giant cranes, divers, engineers and heavy equipment in order to replace the lock's original 1935 auxiliary gates, which have been in disrepair and leaking for several years now.
This week, the old gates are being removed and new refurbished gates will be gently placed by the Corp's 300,000-ton crane on the giant pintel balls that are located at the river bottom. The equipment was floated in via construction barges and tows.
Oddly enough, the original 1935 gates are  being replaced with another set of gates which came from Lock and Dam 17 in New Boston, which are also 80 years old, but completely refurbished. They are 30 feet tall, 63 feet wide and weigh 90 tons each.
According to Bellevue Lockmaster John J. Mueller, replacing gates on the ever-flowing and massive Mississippi River can be a bit tricky, and a lot of preparation and safety measures had to be taken to make it a smooth process.
"We started this spring when we put in the new bulkhead slots on the upper side of the auxiliary gates, which allowed us to put in the bulkhead to block off the river from flowing in the chamber," said Mueller. "Once the bulkheads were in place the water will be equalized so it is the same on both the upstream and downstream sides."
After the river is blocked and the water equalized with the bulkheads (which weigh 48 tons), Army Corps maintenance crews will remove the old gates with the crane, after which divers will inspect the silt plate and removed debris and mud around the plate and pintel balls.
"This is something that needed to be done for a long time," said Mueller, who noted similar work is underway at Lock and Dam 11 in Dubuque. "Essentially, the auxiliary gates are bolted shut and become part of the dam - unless for some reason, the chamber needed to be used. At least now they are no longer leaking."
Lock and Dam 17, where the refurbished gates for Bellevue's Lock and Dam 12 came from, will receive new gates. Locks 13 and 21 are also receiving maintenance as part of this year's work by the Corps. Chambers at both will be de-watered, pumped and dried for inspections and repairs.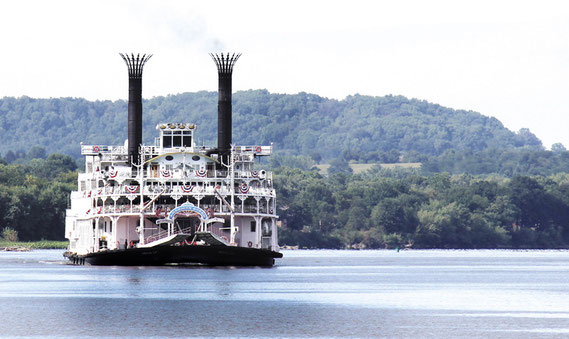 Bellevue man will pilot American Queen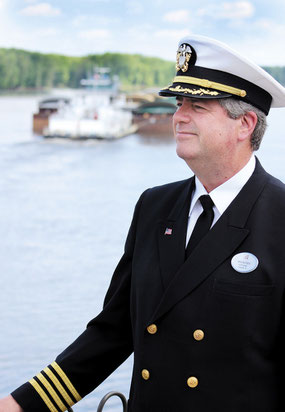 Mike Blitgen, with his classic smile and positive disposition, will be slowing down to wave to folks in his hometown as he glides by on the Mississippi Queen this summer.
Blitgen, who was born and raised in Bellevue, has been named Captain of the famous SS American Queen, which is said to be the largest river steamboat ever built.
The ship was manufacturer 20 years ago and is a six-deck recreation of a classic Mississippi riverboat, built by McDermott Shipyard for the Delta Queen Steamboat Company.
Blitgen, son of  Richard and Marge Blitgen, will be piloting the massive steamship as it rolls up and down the Mighty Mississippi this summer, making several scheduled landings in the area starting late next month.
Stops in Dubuque are scheduled for July 23, July 29, Aug 6, Aug 11, Aug 19, Sept 3, Sept 9, Sept 17, Sept 23, Oct 1 and Oct 7; while stops in Clinton include July 22, Aug 5, Sept 2, Sept 16 and Sept 30.
A 1975 graduate of Bellevue High School, this will be Blitgen's first season piloting the American Queen, but certainly not his first time piloting large vessels on the Mississippi. To READ MORE, CLICK ON E-EDITION AT RIGHT:


St. Donatus man reflects on service in WWII 70 after surrender of Japanese Empire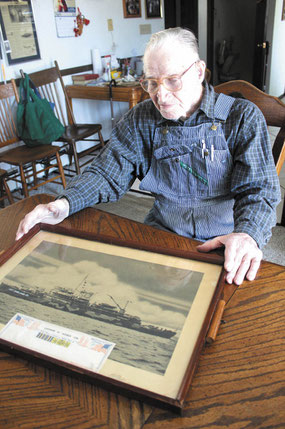 It was 70 years ago this coming summer when American and Allied military officers accepted the unconditional surrender of the Japanese Empire aboard the U.S.S. Missouri, formally ending World War II.
Vernon Weber, a 20 year-old St. Donatus farmboy-turned sailor was there with the massive United States Naval fleet during that historic moment in Tokyo Bay. He was aboard a seaplane tender called the U.S.S. Shelikof, on which he was stationed since he joined the war effort two years earlier.
Most sailors at Tokyo Bay, including Weber, were battle weary after two years on the water - but relieved they weren't engaged in major combat initially anticipated by the Allies after the fall of Okinawa, which was the island gateway to Japan.
It was there that Weber and countless other U.S. soldiers and sailors experienced first-hand the suicidal Japanese resistance late in the war. Kamikaze airplane attacks killed tens of thousands of American sailors and did major damage to at least seven American battle carriers.
Now age 90, Weber still goes to the farm near St. Donatus to feed the family calves on occasion, but has plenty of time to reflect on his experiences in World War II. READ MORE BY CLICKING ON E-EDITION AT RIGHT.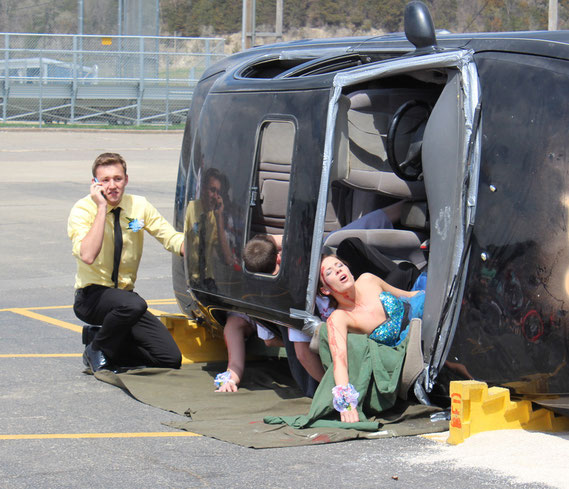 Bellevue's Operation Prom teaches valuable lessons on dangers of drinking and driving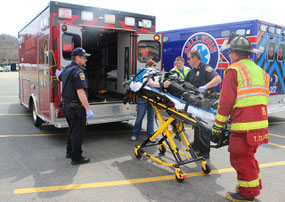 Hundreds of bystanders witnessed a horrific multiple-vehicle accident at Bellevue High School last week in which several young prom goers were seriously injured.
One student was arrested for operating under the influence. One also died as a result of the crash.
It was all part of the Bellevue Fire Department's "Operation Prom" event, in which student actors from both Marquette and Bellevue High Schools simulated what happens at a scene of a fatal crash.
While the students were acting, the response of local emergency crews and the harsh lessons learned were quite real.
The production was all part of Bellevue's Prom weekend, held to open young student's eyes to the dangers of drinking and driving, as well as texting while driving.
Bellevue Fire Chief Kent Clasen, who coordinated the important event, said 40 percent of the calls local officials responded to last year were motor vehicle accidents involving personal injuries.
"Many of these accidents involved bad choices and some resulted in fatalities," said Clasen. "Remember, one bad decision when operating a motor vehicle could truly be your last -  or you may survive to live with the fact you were responsible for someone else's death. What you are about to see is the result of three bad decisions that were made.
The first car in the fatal accident at Bellevue's Operation Prom contained four high school students – a driver, a passenger in the front seat and two passengers in the back seat. The driver had been drinking.
The front seat passenger, a young lady, had been thrown through the windshield and was lying dead on the ground. The driver was injured slightly, and dazed, Rear seat passengers sustained serious injuries and were trapped in the vehicle.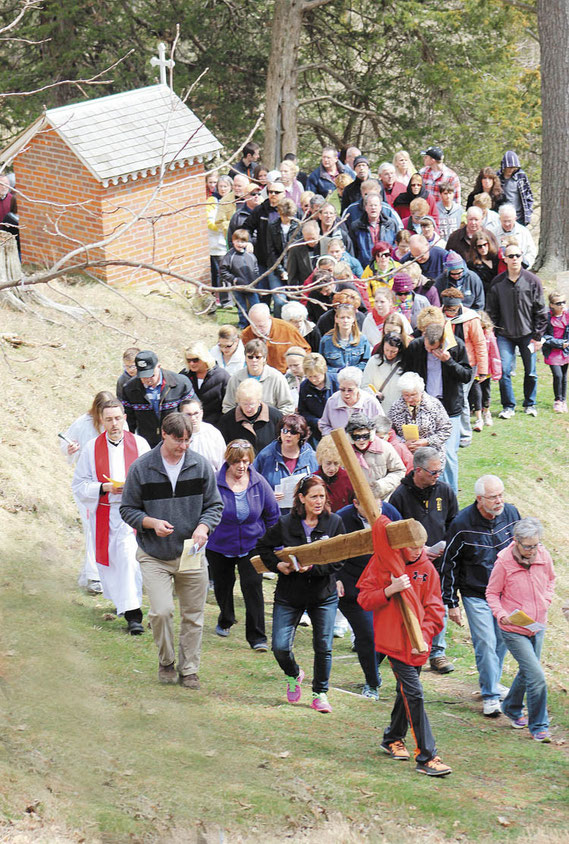 WAY OF THE CROSS IN ST. DONATUS
The annual Outdoor Way of the Cross service took place in St. Donatus on Good Friday with hundreds attending the traditional march up the hill past the many stations to the old chapel above.
The Rev. Michael Podhajsky, who was named the new pastor of the church in July, led the event for the very first time. He and the parishioners recited prayers and bowed at each station, while guests and church members took turns carrying the large wooden cross.
Conducted for over 150 years, the outdoor stations used in the Way of the Cross ceremony were built by Father Flammang and are said to be the first of their kind in the United States. READ MORE BY CLICKING ON E-EDITION AT RIGHT.
SIGNS OF BELLEVUE HISTORY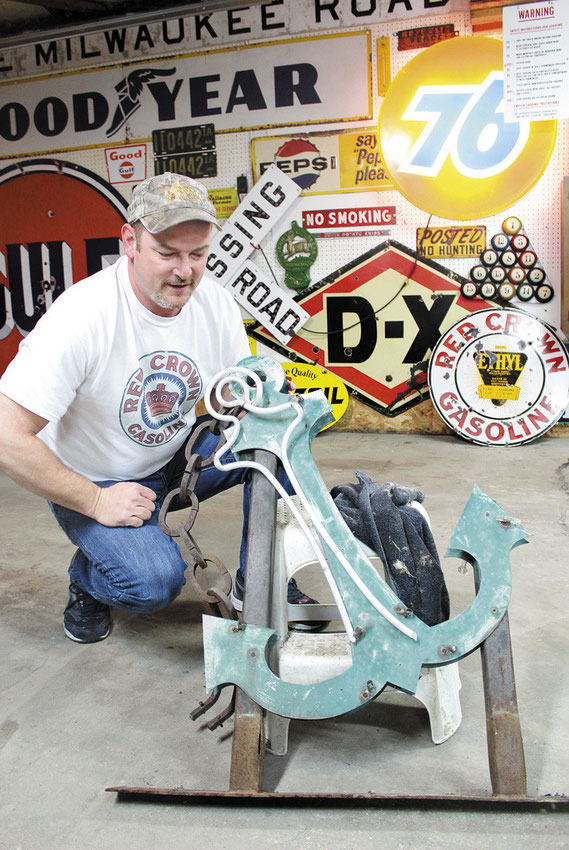 Beaver Kueter has an extensive array of signs and symbols from the local area
Brian Kueter, known to most as simply "Beaver," has a wealth of local history at his Bellevue home that will bring back a lot memories for some.
Kueter, who has been collecting signs and memorabilia from gas stations, as well as farm and feed stores, has many pieces from the Bellevue and St. Donatus areas in his stash of over 200 artifacts.
He's obtained the old DX sign from Front Street, a large shoe advertisement sign from Lucke Brothers, the 1961 Dri-Gas sign from Till's Auto and just recently acquired the original neon-lit anchor from the old Anchor Inn.
"It needs some work to get the neon lights working again – so right now, I'm just cleaning it up a bit," said Kueter at his garage and shop area behind his home on Jefferson Avenue. "I got from an old scrapper and was really excited to find it."
The 1990 graduate of Bellevue High School who works at John Deere in Dubuque said that he has always been collecting something. He focused that collecting bug on signs, as well as a few other items of interest.
"I have the old 'ding-ding' system from the Car Wash too. You know, that sound it used to make when you pulled up to the pumps back in the day," said Kueter. "I had it hooked up un my garage for a while so it would ding when someone came in the door."
As well as local signs and memorabilia, Kueter and his wife Pam travel to swap meets and auctions searching for those special signs which strike his fancy. "It's a fun and wholesome hobby and kind of interesting," said Kueter, who also enjoys shows like American Pickers. "I don't know why I like it, I just do." READ MORE BY CLICKING ON E-EDITION AT RIGHT.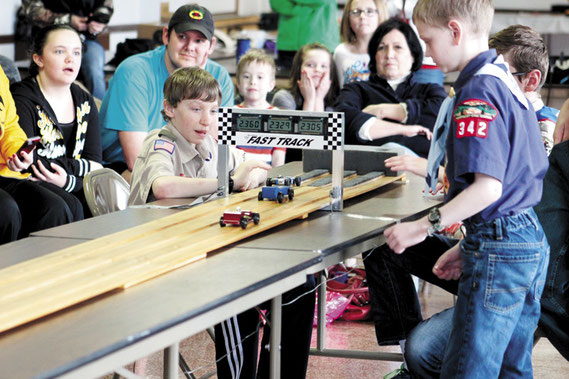 PINEWOOD DERBY ACTION:Bellevue scouts race sleek pinewood cars during annual event
About two dozen local Cub Scouts met last Sunday at the Bellevue American Legion Post to race their sleek handmade pinewood vehicles down a wooden track at the 2015 Pinewood Derby in Bellevue
The event also featured a large viewing screen, which displayed the races, times and winners, so parents, grandparents and friends of the young participants could easily watch the action.
"Everyone seemed to enjoy the derby, and it was definitely a good experience for the scouts," said Bellevue Cub Scout leader Denny Walgamuth of Pack 342, who helped plan the event for the Bellevue Scouts and was there to line up the cars at the start of each race.
The announcer and color commentator during the Pinewood Derby was none other than Garden Tractor Pullers Association President Bear Sieverding of Bellevue, who called each race and kept the crowd entertained and excited.
The many scouts, who made their own racers in accordance with Pinewood Derby rules, got to race their uniquely-painted pinewood vehicles four times, twice in each lane of the track.
In the end, Kempton Sikkema placed first for the fastest time in the Pinewood Derby, followed by Beau Walgamuth, Maverick Scheckel, Jason Wedeking, Trevor Haxmeier and Shane Kelchen.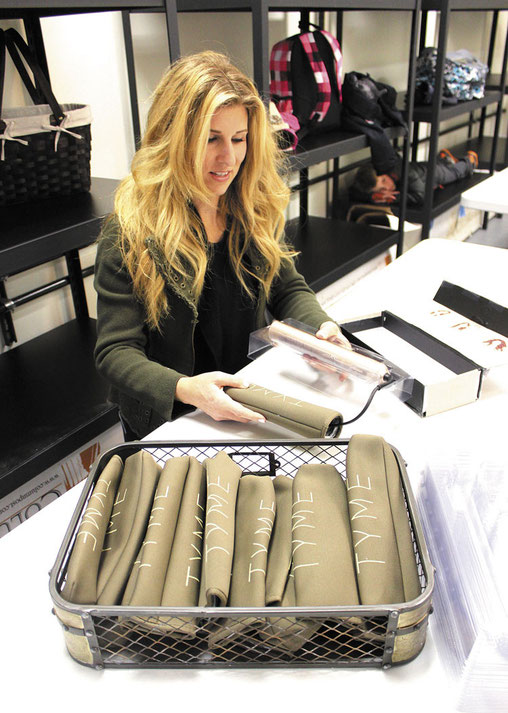 New 'Tyme' curling iron created and patented by Bellevue siblings
Curling irons haven't really changed much since the Titanic sank back in 1912.
Now that is all changing  – thanks to a group of Bellevue siblings, who have developed a new product they hope to sell nationwide in the coming months and years.
Jaycinda Smith, a hair stylist who invented the new "Tyme Iron," along with her brothers Kierre Reeg and Kendrick Reeg, are currently packaging and shipping the fist batch of the unique curling irons this week in a garage behind Water Street Market.
The first shipment of the product has already been sold out, and more are on the way.
The new iron, which was invented, patented and brought to market over the past two years is a breakthrough in terms of operation and results. According to Smith, there is less heat damage to hair and it takes a lot less time to curl with the new Tyme Iron.
The new iron curls by heating and cooling the hair, while flat iron curls are created through heat and tension.
The new product is also designed with a "twist," where other irons are straight or flat.
"With the Tyme, you can curl from top to the bottom instead of the bottom to the top – going from root to tip with ease and hardly any stress on the wrist," said Smith, who styles hair at Centre Grove Suites in Dubuque. "This is due to the fact that the twist is in the iron itself and not the wrist."
Smith has also found that when styling clients hair, her wrist feels much better using the Tyme iron as opposed to a flat iron, she has also found much more comfort when curling her own hair.
"With Tyme, you can achieve fuller big wavy curls too," said Smith. "I have tried and cannot produce the same curls with any of my flat irons. It also retains moisture, leaves hair more shinier and luminous."
Several demonstrations have taken place, including one recently at the Bronco Inn in Bellevue, where Smith received rave reviews for the product. A lot of orders were taken on the spot.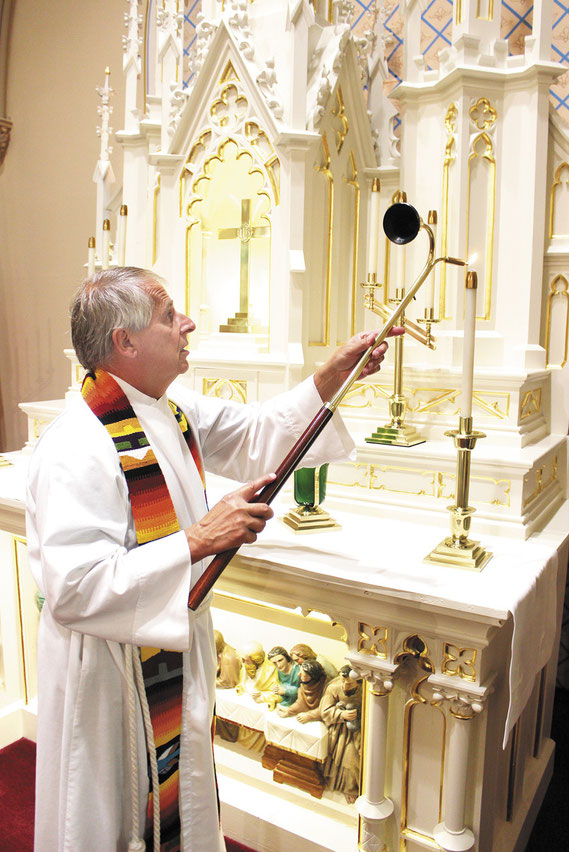 St. John Lutheran Church to celebrate 150 years
It was back in 1864 when18 early settlers of Bellevue, who originated from Pennsylvania, wanted to organize a Lutheran church here.
That church was established, and this Sunday, Oct. 12, St. John Lutheran Church of Bellevue will celebrate its 150th anniversary with a special service, meal and open house.
A worship service coordinated by Pastor Paul Gammelin, in conjunction with Bishop Micheal Burk, will begin at 10 a.m, followed by a meal, program and historical displays at Horizon Hall.
Folks are also invited tour the St. John Retreat Center and Rickert Lodge south of Bellevue after the meal and program. All are invited to attend the service and celebration.
"This sesquicentennial celebration is not about us, but rather it is about God and what God has accomplished through this congregation over the past 150 years," said Pastor Gammelin. "This is also a time to remember the faithfulness of past members who committed themselves to doing God's work in the community of Bellevue and throughout the world."
"God has truly blessed this congregation over the years- and we have been and will continue to be a blessing to others," Gammelin added. READ MORE BY CLICKING ON E-EDITION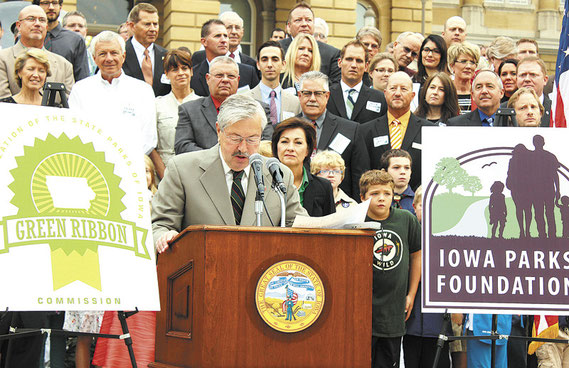 Jackson County; Grant Wood Region selected for major parks revitalization plan
A large delegation of officials from Bellevue, Maquoketa and Jackson County descended on the State Capitol in Des Moines Monday morning for a big announcement on the future of parks and recreation in Jackson, Dubuque and Jones counties, which will include $1.9 million in start funding just for the planning stages.
Iowa Govorner Terry Branstad and Lt. Gov. Kim Reynolds were joined on the steps of the Capitol building by the Iowa Parks Foundation and the Green Ribbon Commission - a special commission charged with developing a long-term and sustainable strategy to revitalize Iowa's State Parks systems – to present the group's 100 year strategy for Iowa parks to the public.
"We want to create a premiere park system in the state of Iowa that will rival the nation, and it will all begin in the Mississippi River Valley," said Branstad, who formerly announced the strategy. "This will be a new dawn for the state park system."
The Governor and Lt. Governor, in conjunction with the Iowa Parks Foundation, following the strategy outlined in the Commission's strategic plan, announced that the Grant Wood Mississippi River Region will be the location for the first strategic Iowa parks pilot project. READ MORE BY CLICKING ON E-EDITION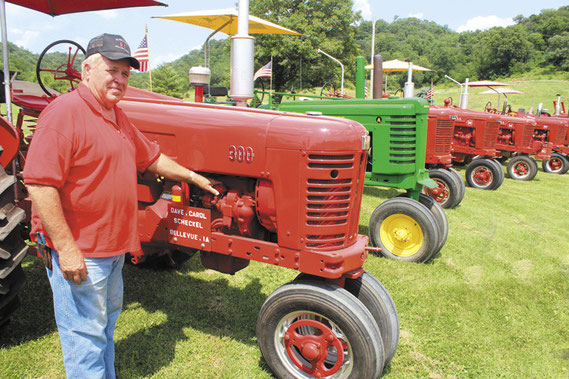 Scheckel has restored dozens of classic tractors
Dave Scheckel is fond of classic farm tractors. So much so, he's got 17 of them stashed away at various locations around rural Bellevue.
From International Harvesters to Farmalls to John Deeres from the 1930s to the 1960s, Scheckel is the local master of tractor restoration.
He's restored dozens of them for himself and others in his large machine shed and shop on Mill Creek Road, which is fully equipped with an entire kitchen, lounge and all the equipment needed for the job.
He and his wife Carol also regularly take part in tractor rides, tractor shows and tractor pulls across the tri-state area.
And, of course, Scheckel will be front and center at the next big tractor-related event, the Bellevue Horsemens Club's annual Truck and Tractor Pull set for Friday, Aug. 1 up on the club grounds on the Bellevue-Cascade Road.
A thousand spectators or more are expected at the event, which has grown considerably over the decades. READ MORE BY CLICKING ON E-EDITION AT RIGHT.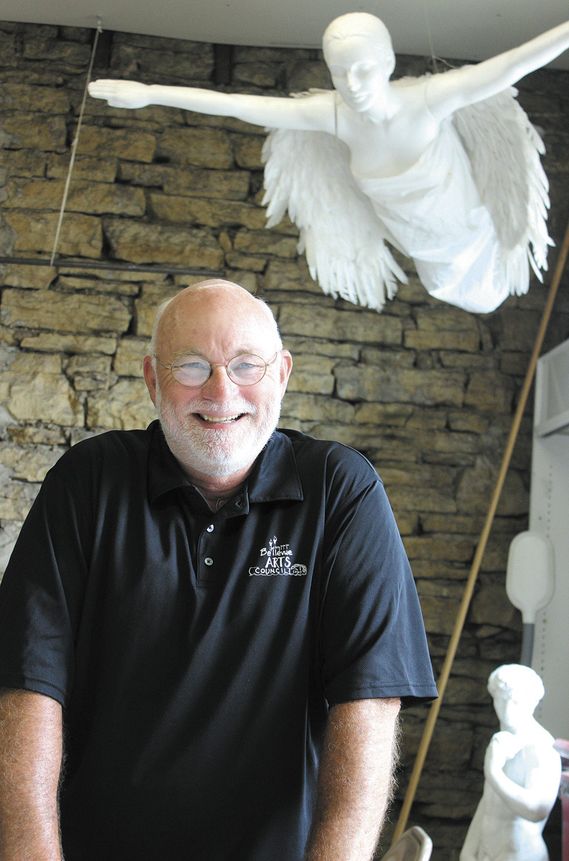 Eischeid Grand Marshal of Heritage Days Parade
Dave Eischeid has been the face of creativity and art to several generations in the community of Bellevue, teaching art, ceramics and photography for 33 years, as well as volunteering his time and talent to countless worthwhile causes.
This year, Eischeid will also become the face of Heritage Days, as he has been named Grand Marshal of the 52nd annual event, which gets underway tonight with the Queen Contest at Bellevue High School.
Eischeid, who will be featured as Grand Marshal of the Heritage Days Parade on Friday morning July 4 at 10 a.m., will ride on the Bellevue Arts Council float, as he requested that the local organization be incorporated upon being asked to lead the event.
"There are so many other deserving people who could be named Grand Marshal, it is humbling to be honored in this manner," said Eischeid, who was an instrumental part of forming the Bellevue Arts Council several years ago.
Eischeid has spent most of his life dedicated to art.  Originally from Cresco, he graduated from Loras College in Dubuque in 1967 with a Bachelors degree in art and a minor in education.  
He went on to achieve his Masters degree at the University of Northern Iowa in Cedar Falls in 1974. 
Eischeid and his wife Carol have lived in Bellevue since 1967. While he served as an art teacher in the public school district for several decades, the couple also still started ... READ MORE BY CLICKING ON E-EDITION AT RIGHT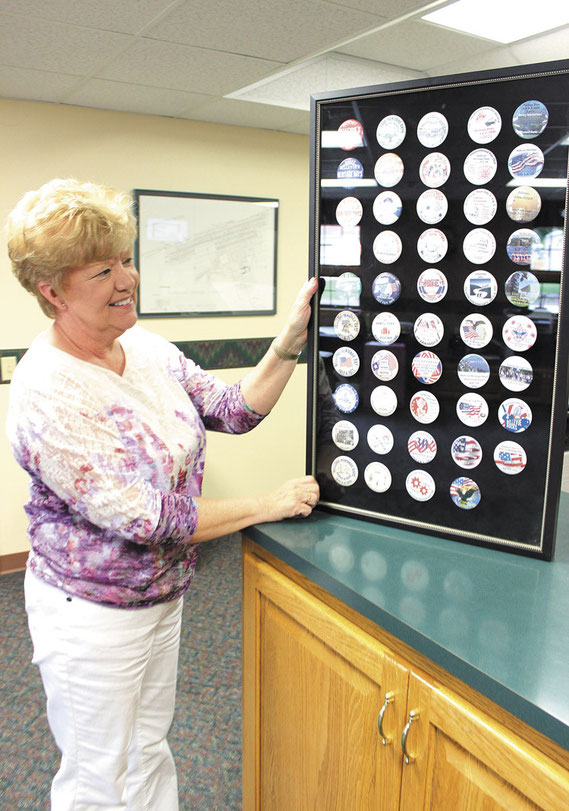 Heritage Days Button Collection
Callaghan has every button dating back 50 years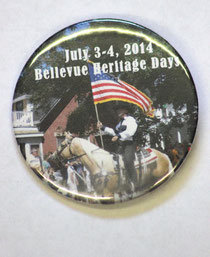 Janet Callaghan has a lot of history on her desk up at Bellevue City Hall.
That history comes in the form of buttons – Heritage Days Buttons that is - which the longtime City Clerk has been collecting for some time now.
Each Heritage Day button is in the collection dating back to the first celebration back in the early 1960s. Back then, it was called "Bellevue Homecoming."
With the release and distribution of the 2014 Heritage Days Buttons this past Friday, Callaghan's collection was updated once more.
"I got a lot of the older ones when I went to the Marvin Koppes auction a few years back," said Callaghan, who is also a longtime member of the Heritage Days Committee. "It was hard to find the originals – there's only a few other people who have them all."
Callaghan said her two favorite Heritage Days buttons are those from 1977 "Hats off to Bellevue" and one of the Ski Bellevue Waterski team from 1998.
The Heritage Days buttons are not only collectible – the purchase of a button gains one admission to all the various events – from the Queen Contest to the Parade to the Fireworks to the big dance.
This year's celebration will take place Thursday and Friday, July 3 and 4 and will include D&B Carnival Amusement Rides both days.
The Heritage Days Queen Contest will take place Thursday evening at 6:30 p.m. at Bellevue High School.
The legendary Razor Ray Theisen will play for a dance at the Bellevue American Legion Thursday night at 7:30 p.m. as well.
At 8 p.m. to midnight, an outdoor dance and bash will take place at Cole Park featuring the Dingleberries, with opening act 5th Fret.
At 8:30 p.m., a flag disposal ceremony will be conducted at Cole Park by the Bellevue American Legion Post #273.
On Friday, July 4, the day begins at 10 a.m. with the massive and amazing Heritage Days Parade, with parade line-up at the Horizon Hall parking lot at about 9:15 a.m.
A flag-raising ceremony conducted by the Bellevue Fire Department will take place at Cole Park after the parade. Food stands, bingo, childrens games and a beer garden will be open all day. READ MORE BY CLICKING ON E-EDITION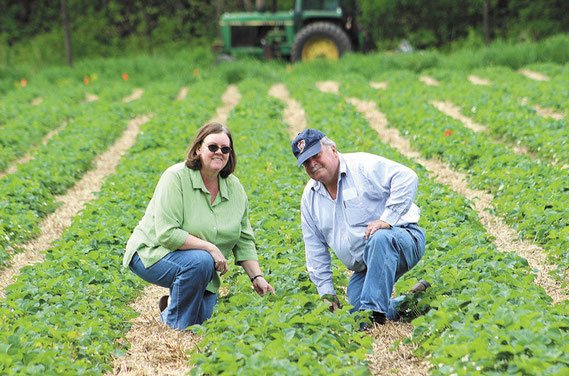 Strawberry Fields Forever
Crops at Annie's Acres in bloom; strawberry season underway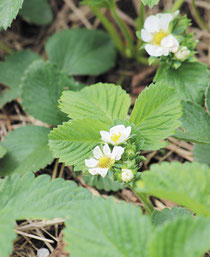 The smell of sweet, ripe strawberries can be intoxicating – and the strawberry fields at Annie's Acres northwest of Bellevue are well on their way to turning out tens of thousands of the irresistible pieces of fruit.
In just another two to three weeks Dave and Ann Kendall, owners of Annie's Acres, will start the seasonal process of picking the strawberry fields now in full bloom on Mill Creek Road.
With about eight acres which produce about 80,000 pounds, the flowers at Annie's Acres are quickly growing into the tasty fruit.
"Each flower will be a strawberry and they're really starting to open – so it won't be long now," said Dave Kendall, who created Annies Acres back in 1987.
"We started growing strawberries back during the 1980s farm crisis as a way to help pay the bills. We started with a couple acres and have quadrupled our production since then."
Strawberries from Annie's Acres are sold all over eastern Iowa, from major grocery stores in Dubuque, to farmer's markets in Maquoketa and Clinton. Here in Bellevue, Annie's Acres strawberries will be sold fresh at 101 North Riverview, near Lock and Dam 12 starting around June 15.
Many local folks also enjoy the scenic drive down Mill Creek Road on their way to pick their own.
Bellevue's Steines and Griebel Logging ships high quality hardwoods around the world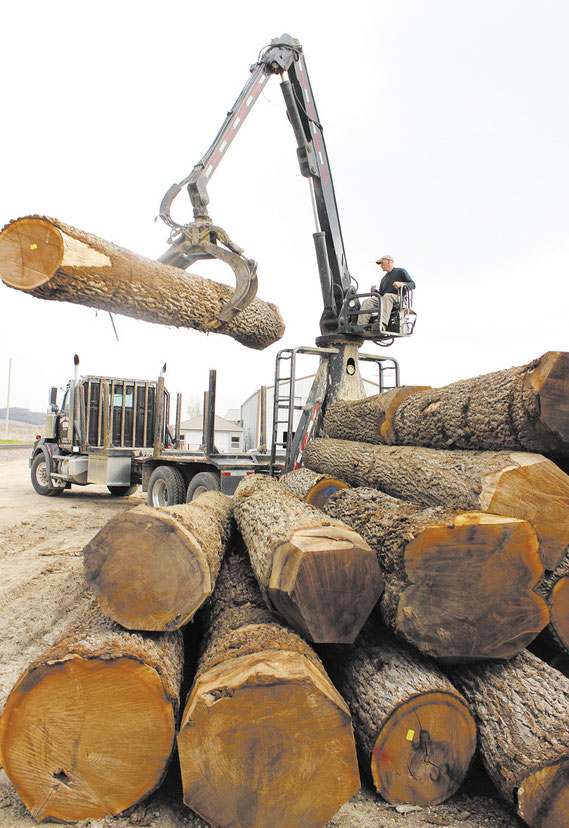 While Steines & Griebel Logging has been around for well over 50 years now, many in the local community may not be aware that the longtime multi-generational Bellevue business is serving a world market with some of  the best hardwood logs available.
In fact, last week Orville "Junior" Steines and partner Keith Griebel, owners of Steines & Griebel Logging, Inc., loaded up another container at their shop north of town with a load of high quality veneer Walnut logs. This load of veneer Walnut logs was on its way to Switzerland to be sliced into high end veneer panels and furniture.
 "Most of our product comes within a 70 mile radius of Bellevue," said Junior. "We have  some of the best walnut  in the world and some very good quality oak as well right here. Although we have operated in several surrounding states as well, travel has never been an issue. The timber is good because the soil quality is good."
The hardwoods logged by Steines & Griebel  can be found in products across the nation as well as world wide, from fine furniture and high end architectural veneers, to products many would not even think about.
 "Mercedes and other top end car companies use many types of veneer for their dashboards, consoles, steering wheels and other fixtures. Walnut is used as well in high quality gun stocks and pistol grips- a lot of high dollar products. Our walnut trees in the Upper Midwest have the best quality of any in the world," explained Keith. "Many of our White Oak logs have been used for whiskey and wine barrels in Kentucky since the business originated in 1960 and they are still making them today. Wood makes better whiskey and wine than plastic does" READ MORE BY CLICKING ON E-EDITION AT RIGHT.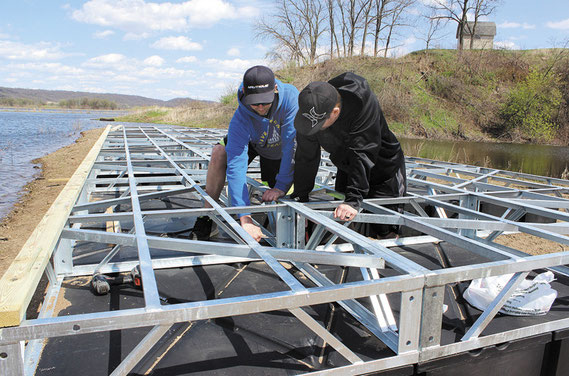 New equipment will allow for bigger and safer water shows
Ski Bellevue Practice Dock
Members of the Ski Bellevue Waterski Team spent last Saturday afternoon assembling a new 16 x 40-foot practice dock that arrived here from a company called Tiger Docks in St. Louis, Missouri.
The dock, which was custom-designed to hold 30 skiers at once on the take-off side, was trucked in pieces and assembled on property which is owned by Bellevue Sand and Gravel, long-time supporters of Ski Bellevue.
The owner of Bellevue Sand and Gravel, John Schneider, unloaded the dock parts from the truck for the team and loaned other equipment to assist in assembly.
"With the high water it was the perfect time to construct the dock, then float it down to the team's practice site," explained Dave Valant of Ski Bellevue, who was on the site overseeing the assembly. READ MORE BY CLICKING ON E-EDITION AT RIGHT.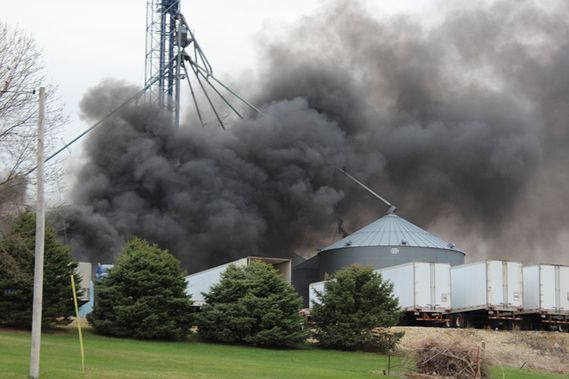 Fire at Bullock's Ag Service in La Motte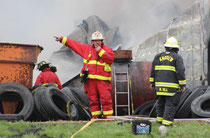 La Motte, Bellevue, Andrew, Bernard, Key West and Maquoketa fire departments were called to a large fire at Bullock Ag Services in LaMotte Thursday morning at approximately 8:15 a.m. According to officials the center section of the storage facility caught fire and fire fighters spent several hours on the scene. Thick black smoke could be seen from the top of the bluff as far away as Bellevue. The cause of the fire remains under investigation. Look for more photos and information in next week's Herald-Leader.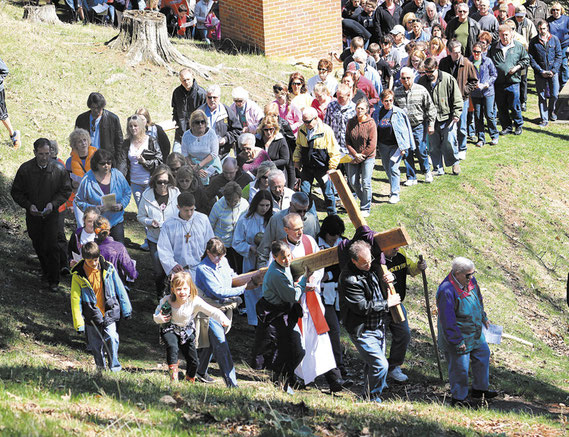 Way of the Cross
150 year-old tradition continues in St. Donatus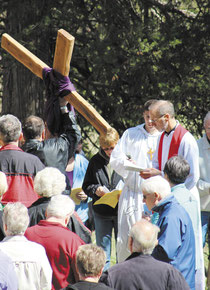 The annual Way of the Cross service took place in St. Donatus last Friday with hundreds attending the traditional march up the hill past the many stations to the old chapel above.
The Reverend Jerry Blake facilitated the event and recited prayers and bowed at each station, while guests and church members took turns carrying the large wooden cross.
Conducted for over 150 years, the outdoor stations in the Way of the Cross ceremony were built by Father Flammang and are said to be the first of their kind in the United States.
According to a book entitled the 'Story of St. Donatus,' the inspiration for this project was conceived by the great Jesuit missionary and author, Father Francis Xavier Weniger, while conducting a mission in St. donates parish in 1852.
At the beginning of the mission, according to his customary practice, he had a huge cross, 40 or 50 feet in height, erected in the most prominent place of the community, namely the hill behind the cemetery. The erection of a mission cross was very impressive according to Hoffman who gives the following description of such a ceremony.
"At this public gathering soldiers from nearby garrisons were invited to participate in the processions; the town common, often used by the local authorities in those days for civic and regional celebrations, was pressed into service to fire salutes at the erection of the outdoor mission cross. After this ceremony the zealous missioner suggested to the congregation the idea of erecting the stations on the hill as a "fitting path to that symbol of our Redemption." READ MORE BY CLICKING ON E-EDITION AT RIGHT.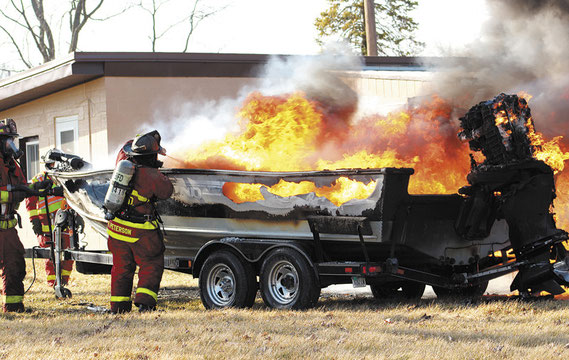 Boat fire causes big blaze at Smith's Ferry
The Bellevue Fire Department responded to a boat on fire Monday, March 31 at 32671 Smith's Ferry Road north of Bellevue approximately 4:38 p.m.
When fire crews arrived they found the small boat fully engulfed in flames. Fire fighters spent over 30 minutes putting out the blaze, which was intense due to the large amount of fuel on board. Crews utilized a special foam mixture to eventually snuff out the fire.
The boat's owner, Tom Kunnert of Dubuque, told officials that he was charging the batteries and shortly thereafter noticed the boat was on fire. He added that he had just filled the boat with fuel as he was planning to fish on the Mississippi River that afternoon.
The boat and its motor are a total loss. The boat, which was insured, had an esti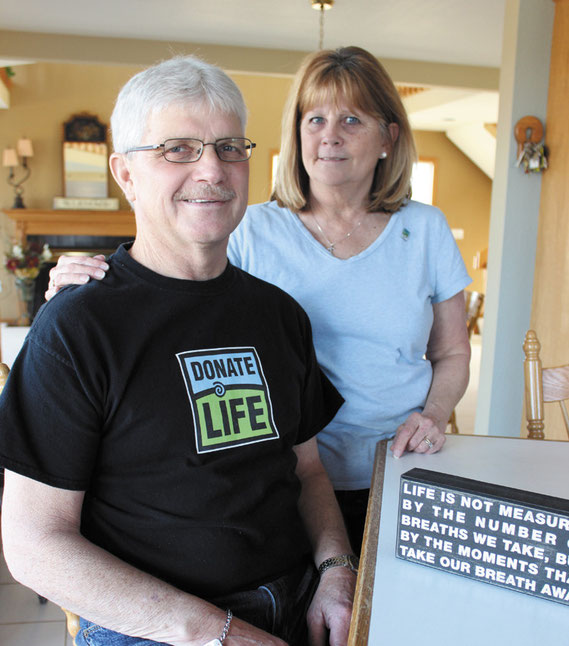 Bellevue man recovering from lung transplant; stresses importance of organ donation
Bellevue's Rick Klemme wants the public to know the importance of organ donation.
In fact, if it wasn't for the National Donor Registry, he may not be alive today.
Klemme underwent a double lung transplant at the University of Wisconsin in Madison last spring and continues recover from the procedure.
Since the surgery on May 23, 2013, he has to be careful about being in public places with a lot of people, and sometimes has to wear a respiratory mask to protect himself against germs.
Back at his home in the Cheney-Wagner addition, Klemme and his wife Joan are thankful for the success of the surgery and are encouraging others to place their names on the Iowa Donor Network so other lives may be saved.
"April is National Donate Life Month, so we thought this would be a good time to make people aware of how important it is to save a life through organ donation. One donor can save up to eight lives," said Rick
Coats for Kids campaign to help needy in Kosovo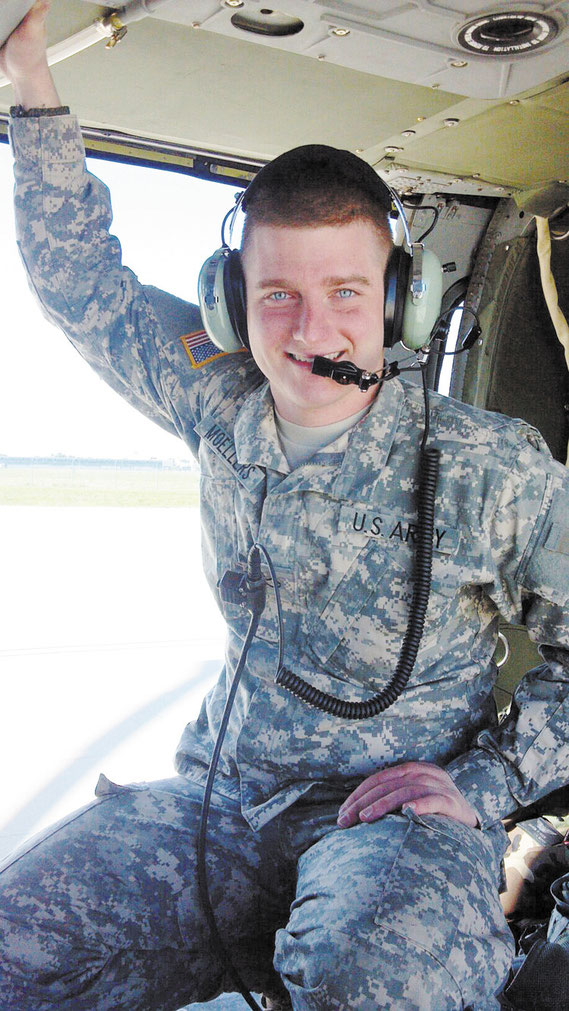 Bellevue native and Iowa National Guard soldier Steven Moellers, who is currently stationed in Camp Bondsteel in Kosovo, is asking the local community to help the needy in that country.
Moellers, a UH-60 Black Hawk helicopter mechanic arrived in Kosovo in January on his first deployment overseas. His unit's mission is to ensure that peace is kept within the territory. He is also spearheading a project to help the less fortunate in the developing country, which was formerly part of Serbia.
Moellers, in conjunction with National Guard veteran Chuck Kueter and Bellevue American Legion Post #273, are collecting coats and school supplies for the children and families of Kosovo, who were devastated by years of conflicts, attacks and a struggling economy.
The drive has been dubbed "Coats for Kids," and a similar program was conducted in 2007 and 2008 when Kueter was also stationed in Kosovo.
After hearing about what Chuck did when he was deployed over here, I knew I would like to get it going again to help the people of Kosovo," explained Moellers.
Those who wish to donate coats and school supplies should drop them off at Bellevue City Hall from now through April 11. Monetary donations are also need to help pay for shipping costs.
When the coats and supplies arrive, Moellers, will help distribute them to the needy.
READ MORE by purchasing an e-edition.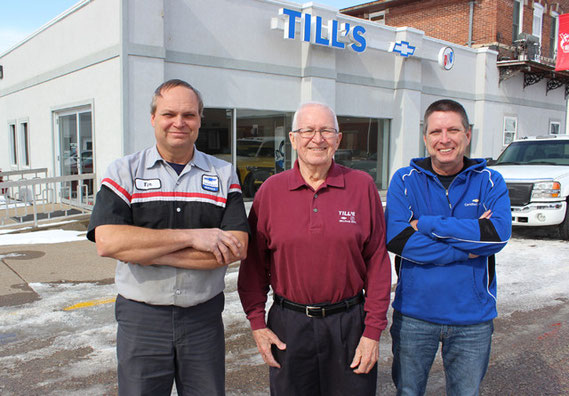 Till's celebrates 100 years in Bellevue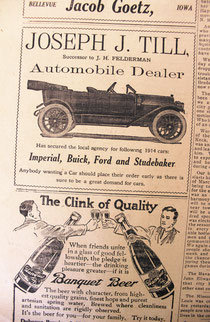 In 1914, the automobile industry was exploding across America.
Henry Ford's assembly line concept had made the American auto affordable to the masses while wages for autoworkers doubled from $2.40 per day to $5 per day that same year. Other car manufacturers such as Buick and Chevrolet followed suit and the country was quickly becoming mobile.
Here in Bellevue, the auto industry was kicking into high gear as well, as evidenced by the March 10, 1914 Bellevue Herald, which featured several advertisements annwouncing the opening of auto dealerships in Jackson County.
Among the most prominent was an advertisement was for Joseph J. Till of Bellevue. The ad read "Joseph J. Till has secured the local agency for the following 1914 cars: Imperial, Buick, Ford and Studebaker. Anyone wanting a car should place their order early as there is sure to be a great demand for cars."
A century later, Till's Auto is still in business and still owned by the Till family who are celebrating 100 years of serving customers across Jackson County and beyond. READ MORE BY CLICKING ON E-EDITION AT RIGHT: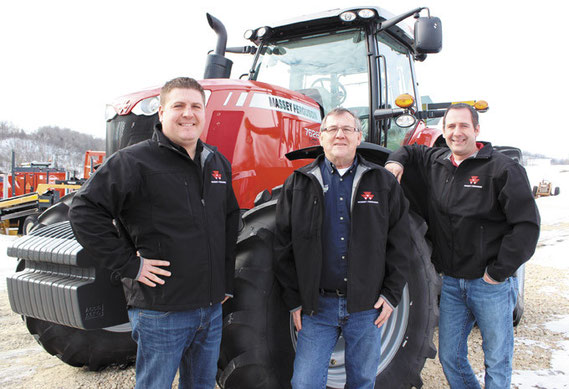 Roeder Brothers, Inc. purchases Daque Equipment
A longtime Bellevue business is expanding its market in eastern Iowa and beyond.
Roeder Brothers Inc. of Bellevue, an agriculture equipment and parts dealer serving the eastern Iowa area for over 70 years, has purchased Dague Equipment in Maquoketa.
The sale, which was effective Monday, added a second major location in Jackson County for Roeder Brothers, a Massey-Ferguson dealership, which also offers many other farm equipment brands including AGCO, Bobcat, Demco, Kuhn and Featherlite.
"We are excited to have Dague Equipment, Inc. as part of our Roeder Brothers, Inc. family," said Scott Roeder, who added that both locations will continue to provide reliable, family-friendly sales, parts, and service expertise which customers have come to value from both Roeder Brothers and Dague Equipment teams. "Having two locations will add better service and more convenience for parts and customer service."
Roeder Brothers Inc. began in 1938 with the Roeder brothers, Harry, Floyd and Kenneth Roeder in Bellevue.
The family-owned operation is a third-generation business now owned by Scott and Nick Roeder. READ MORE BY CLICKING ON E-EDITION AT TOP RIGHT...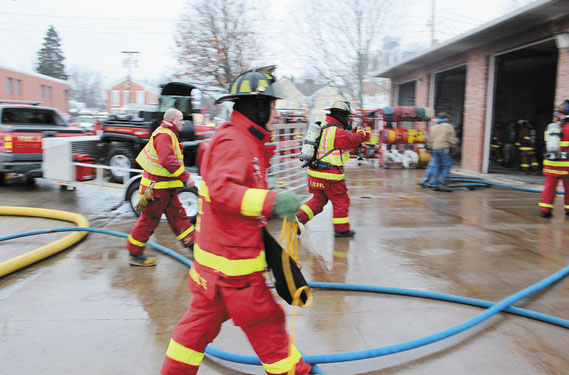 Bellevue Fire Fighters save own building from destruction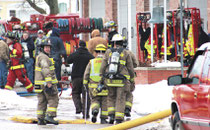 Fire fighters responded to a fire call at the Bellevue Fire Station Thursday morning at approximately 6:50 a.m. When responders arrived, a thick cloud of smoke was billowing out of the station.
Bellevue Police Chief Lynn Schwager, whose office is next door at City Hall, first spotted smoke coming from the rafters. While some of the volunteers battled the flames, which appeared to originate from the northwest end of the building, others rushed to remove trucks, racks of protective gear and other equipment.
A handful of Bellevue residents reported seeing smoke from several blocks away, including former Mayor Virgil Murry and Mike Hurley, who took a photo from his upstairs window just west of the fire station looking east.
Damage estimates to the building are not yet known, but look to be mostly soot and smoke damage. The department's rescue boat was also damaged by the heat, as well as minor damage to two trucks. The building itself appears to have sustained minimal damage.
The fire was quickly extinguished, smoke was cleared and vehicles and equipment were moved into the street. Preston, Maquoketa and Springbrook Fire Departments were also called to the scene for back up.
State Street and Third Street were blocked with fire trucks and emergency vehicles for several hours. FOR MORE, CLICK ON E-EDITION AT RIGHT.
Ski Bellevue gearing up for 2014 season
While the snowflakes fell outside on a frozen river last Saturday, just a few blocks away, the Ski Bellevue Waterski Show Team conducted it's first "dryland practice" of 2014 at the old Bellevue Elementary School gymnasium.
It's all part of the intense preparation for another exciting season on the water, as Ski Bellevue is one of only four waterski show teams in the state of Iowa and the only one performing on the Mississippi, which takes even more skills and talent.
"It is the way our ski team practices before we do our stuff on the water," said Dave Valent, one of the main organizers of the famous Ski Bellevue shows. "We've got several shows lined up for this summer, so we need to be prepared."
During dryland practice, ski ropes are attached to the gymnasium wall instead of a boat.
In this way, the team can practice pyramid building along with lots of other acts that make up a ski show. READ MORE BY PURCHASING AN E-EDITION.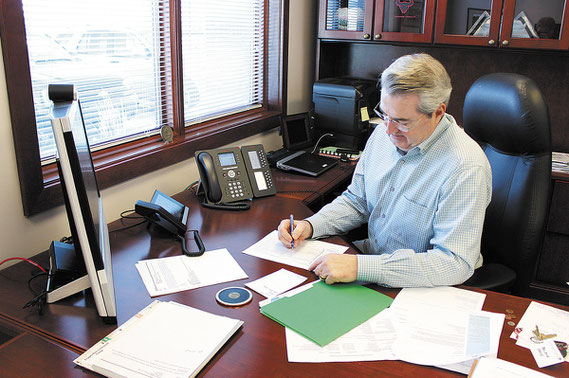 Sedgwick CMS purchased for $2.4 billion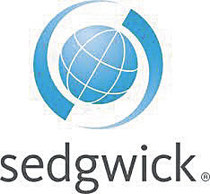 Bellevue's Dave North was busy on the phone with financial reporters from the Wall Street Journal and the New York Times last Monday, just hours after the news broke that Sedgwick Claims Management Services, Inc., a top provider of insurance claims processing, would be purchased by KKR (Kolberg, Kravis, Roberts).
The private equity giant agreed to purchase a majority ownership of the company for $2.4 billion from its current group of investors, which includes Hellman & Friedman LLC and Stone Point Capital LLC.
North, who is president and CEO of Sedgwick, which employs 42 people at its Bellevue location, said that the news was great for the company and that nothing would change in terms of Bellevue.
"There is no change in our commitment to Bellevue or offices in Iowa," said North. "This is an investor change that brings a new depth of resources to Sedgwick for future growth."
Sedgwick Claims Management Services, Inc. is a leading provider of technology-enabled claims and productivity management solutions.
At Sedgwick's Bellevue location, which has been in operation for over two years, employees often manage claims for long term disability claims and specializes in leaves of absences for large employers across the country.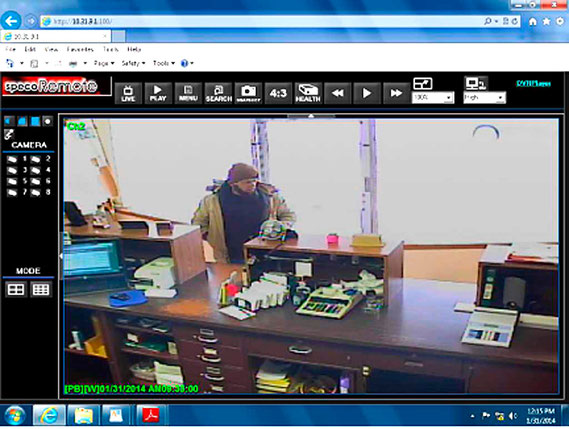 Police searching for Baldwin Bank Robber
Today, (Friday, Jan. 31) at 9:11 a.m. the Jackson County Sheriff's Office received a call that the Baldwin bank had been robbed by a male subject.  The subject is between 5'10" and 6'0" and possibly wearing a fake beard.  Police say the subject drove off in a white colored older truck with a red stripe heading southbound on 50th Avenue.
If you see vehicle or subject please call the Jackson County Sheriff's Office at 563/652-3312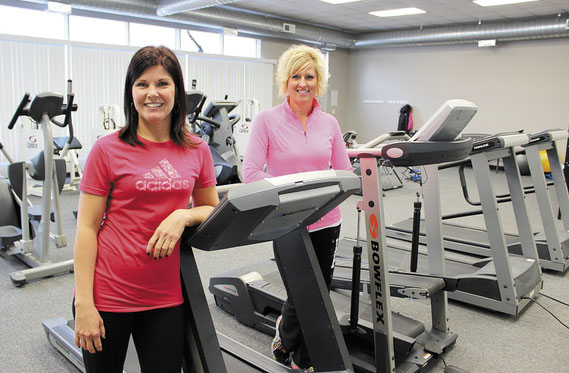 On Track Fitness Center to open in Bellevue
A new business is opening in Bellevue which will serve the community with a healthy dose of workout and fitness equipment options.
"On Track Fitness," created by Melissa Roeder and sister-in-law Tonya Roeder, is located right on the railroad tracks at 306 North Second Street, which is the former home of the Achen car dealership.
The Roeder ladies will host a public open house to show off the new Bellevue fitness center on Thursday, Jan. 30 from 6 to 8 p.m.; Friday, Jan. 31 from 5 to 7 p.m.; and Saturday, Feb. 1 from 9 a.m. to noon.
Inside, patrons will find a newly remodeled workout area with dozens of pieces of high quality, state-of-the-art workout equipment, big screen televisions and a wall of new lockers for members. READ MORE BY CLICKING on E-EDITION.
Bellevue's Historic Elementary School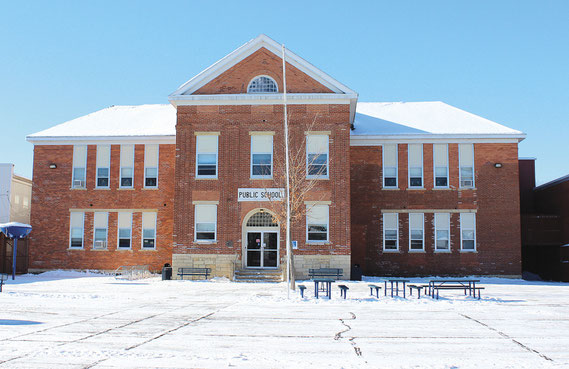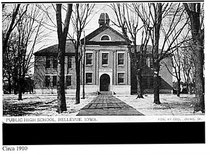 Probably not too many local folks give it a second thought.    
They pick up their children or drop them off at the big brick building on the corner of Third and State Streets, which is the location of the Bellevue Elementary School.
According to local historians and school administrators, however, the old brick building has extreme historical significance.
First constructed in 1848 as the Jackson County Courthouse, a portion of the building was also used as a school at that time. This fact may make the structure the oldest active school building still in use in the state of Iowa.
While the building served as a county courthouse, it became the official K-12 school in 1861. Several additions were added over the years, but the original courthouse portion ha remained and has been in use now for 166 years.
Bellevue Superintendent Mike Healy, who will retire at the end of this school year, said one of his main goals during his time in Bellevue was to restore the original 1848 portion of the building, rather than seeing the district spend millions more building a new elementary school.
70 years later, Bellevue's Reistroffer shares memories of Normandy invasion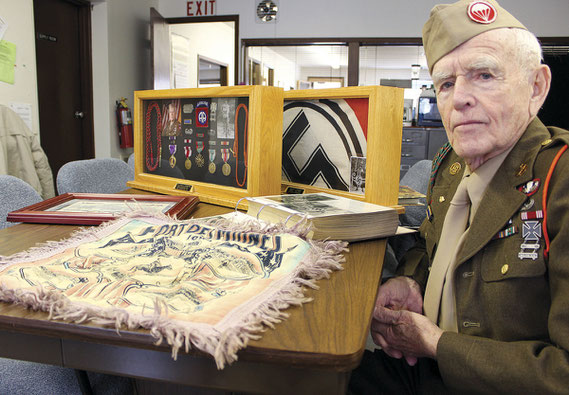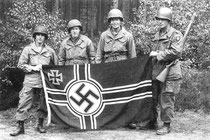 After nearly 70 years, the memories and images are still fresh in LeRoy Reistroffer's mind.
It was back in June of 1944, when the 19 year-old Bellevue youth was part of one of the most significant battles of World War II, which helped secure victory and freedom for the United States of America as well as Allied forces.
Now 89, Reistroffer recently shared his memories and experiences of WWII with his son and grandson, who recently came home to Bellevue for the holidays.
Just like the patriarch of the family, both are military men who served their country with honor. Son Jon Reistroffer, a 1985 graduate of Bellevue High School now living in Houston, Texas, served in the Marine Corps for 24 years and recently returned from a mission in Afghanistan. Grandson Brandon, age 20, recently joined the U.S. Marine Corps.
While they have their own experiences, LeRoy "Chris" Reistroffer was an integral part of the famous D-Day invasion on June 6 and June 7 of 1944, one of the most significant battles of World War II.
After graduating from St. Joseph's Catholic High School in Bellevue in the spring of 1943 (it wasn't called Marquette until later), Reistroffer immediately joined ... READ MORE BY PURCHASING AN E-EDITION.
National Country Artist to perform at annual event
Unique crucifix shines at Marquette's MEC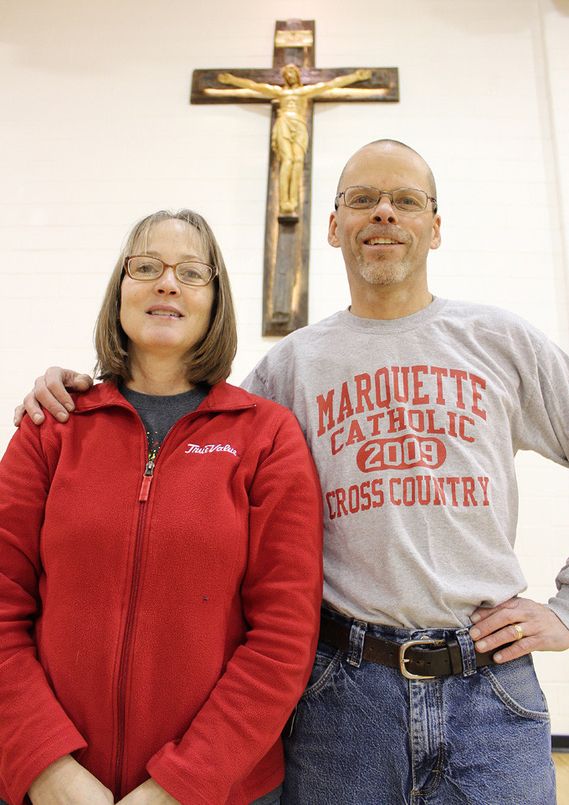 Marquette High School will have a special fan watching over Mohawk basketball games this winter.
A 9-foot tall 250-pound lighted crucifix, donated by Chris and Kathie Lampe of Bellevue, was blessed by Father Kruse of St. Joseph's Catholic Church during Christmas Eve services Tuesday.
"This is an important symbol of the Church," said Father Kruse of St. Joseph's Catholic Church. "Therefore, before we put in use any such symbol or sign we bless it."
The crucifix was carved by Jr. Cadawas of Chicago, who was born and raised in the Philippines amongst a community of carvers. He has honed his craft for over 40 years and today, his artworks are considered collector's items.
"In the Fall of 2012, I was in the Xavier High School gymnasium in Cedar Rapids and I noticed a beautiful lighted crucifix on the wall," explained Chris Lampe.  "On the drive home, I mentioned to my wife, Kathie, that I wasn't even aware if Marquette High School had a crucifix in the gymnasium.  I decided that the MEC (Marquette Education Center) should have a crucifix to express that Marquette is a religious institution." READ MORE BUY CLICKING ON E-EDITION AT RIGHT.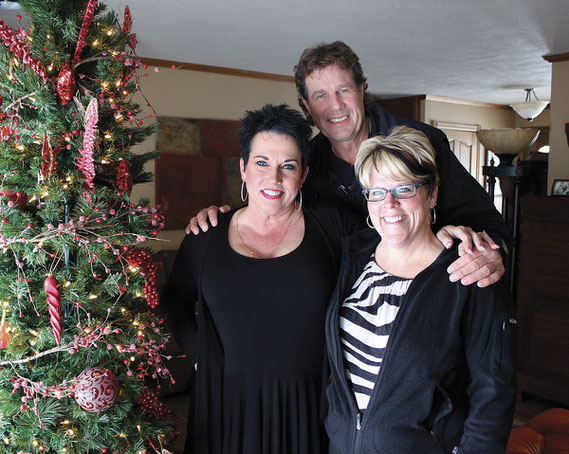 A Christmas Miracle in Bellevue
Two sisters from Bellevue were united with a brother they didn't even know they had this past weekend. Pam Moriarty and sister Gemma Still who both live in the Spruce Creek addition north of town, met their newly found brother Peter Joseph Lana, for the first time when he flew into Dubuque last Friday night. "To me, it is a Christmas Miracle," said Moriarty, who explained that her mother gave birth to her older brother when she was only 17 and gave him up for adoption. "She hadn't told us about him because we were all too young. She died of cancer in 1982, and the secret sort of went with her." Now age 62, Peter Lana was given to Catholic Charities and sent to an orphanage after he was born in April of 1951. He was the first of eight children born to Mary Elaine Steinhoff. She named him Robert Joseph Steinhoff, but his middle and last name would change when he was adopted by a several months later. READ THE ENTIRE STORY by picking up a copy of the Bellevue Herald-Leader or clicking on e-dition at right.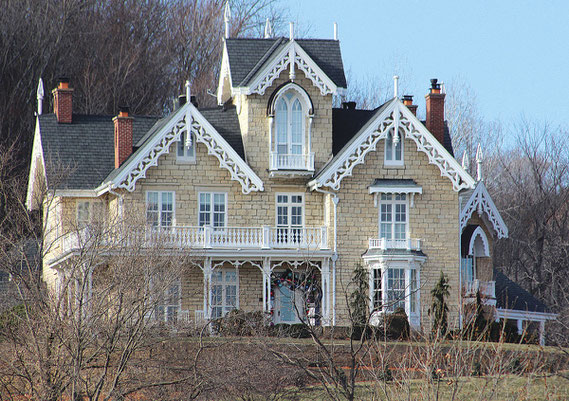 A Christmas Tour for Brittany
Bellevue's iconic Springside home is once again glowing with the spirit of the Christmas. And so are owners Dave and Penny North, who are inviting the public to tour the unique eye-catching 165 year-old historic structure located on the north bluff on Sunday, Dec. 15 from 2 to 6 p.m. Donations from the tour will benefit Brittany Moore, who underwent a bone marrow transplant in Wisconsin this past summer. The daughter of Brian and Kimberly Moore, Brittany is a sophomore at Marquette Catholic in Bellevue and currently recovering from the surgery at home. The Norths came up with the idea of a tour to help the Moore family defray medical expenses. "The Moore's are our friends and that's what friends do," said Penny North. As well as this weekend's Springside Tour, other events and prayer vigils have taken place at Marquette High School since Moore was diagnosed with "aplastic anemia" in November of 2010. Aplastic anemia is basically a bone marrow disorder that occurs when a person's white cells are unable to fight infection.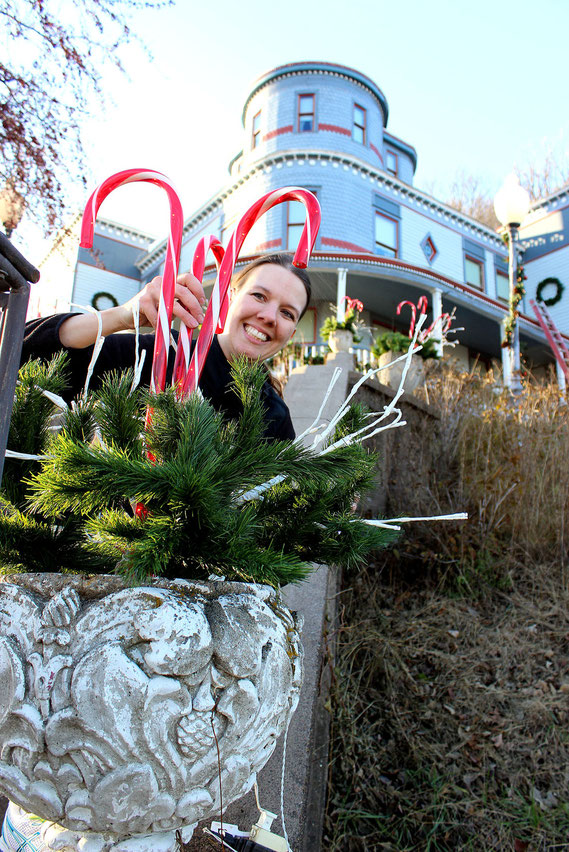 Unwrap the Magic of Christmas in Bellevue
The holiday season in Bellevue is officially here  – and the local Chamber of Commerce, in conjunction with Bellevue merchants, have big plans to put everyone in the Christmas spirit this weekend.
A holiday fireworks display, lighted Christmas parade, wagon rides with Santa, Firemen's Chili Supper and a Holiday Tour of Homes are all on tap Saturday and Sunday, Nov. 30 through Dec. 1 as folks are invited to "Unwrap the Magic of Christmas" in Bellevue.
The Wonderland of Trees is also open at the Great River Gallery on Riverview Street and the weekend events will culminated there on Sunday with the annual tree raffle and reception following the tour of homes.
On Saturday, Nov. 30, a series of non-stop holiday events and shopping opportunities will take place. Special appearances by Santa Claus will include the annual Breakfast with Santa event on Saturday, Nov. 30 from 9 to 11 a.m. at Water Street Market; and
Wagon Rides with Santa from 1 to 3 p.m. at the Bob Ernst Building on Riverview.
Other events on Saturday include a Ceramics Workshop from 10 a.m. to 2 p.m. at the art studio above the Happy Bean, a Holiday Craft and Vendor Fair from 10 a.m. to 4 p.m. at the Shore Events Centre on the north end of town and the annual Firemen's Chili and Pie Supper from 4 to 8 p.m. at the Bellevue Fire Station.
A Holiday Craft and Vendor Fair will also take place from 10 a.m. to 4 p.m. at The Shore Event Centre in Bellevue.
The big finale for Saturday will be a Christmas Fireworks Display over the Mississippi River at approximately 6:15 p.m., which is sponsored by Lampe's True Value Hardware,  followed by the annual Lighted Christmas Parade on Riverview.
SATURDAY, NOVEMBER 30
• Breakfast with Santa 9-11 at  Water Street Market
• Ceramics Workshop 10-2 in the studio above Water Street Market
• Holiday Craft & Vendor Fair 10-4 at The Shore Event Centre
• Wagon Rides with Santa 1-3 p.m. at the Bob Ernst Building
• Firemen's Chili & Pie Supper
4-8 at the Fire Station
• Fireworks at 6:15 followed by the Lighted Christmas Parade

SUNDAY, DECEMBER 1
• Holiday Open House Tour 12-5
• Wonderland of Trees Reception and Raffle at the Great River Gallery 5-6
Dredging project underway at Spruce Harbor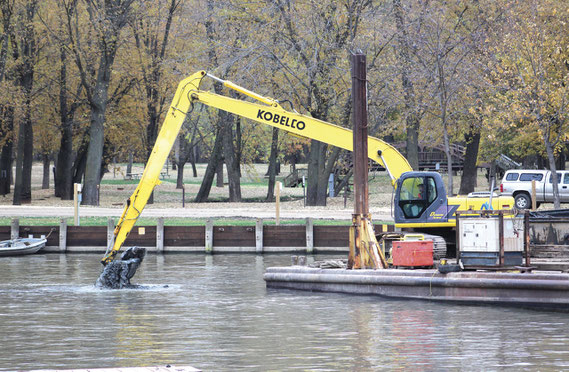 Fish and fishermen alike will benefit greatly for years to come as a result of a water project currently underway at the north edge of Bellevue on the Mississippi River.
A $90,000 dredging project Spruce Creek Harbor, approved earlier this fall by the Jackson Country Conservation Board, will remove about 3,000 cubic yards of silt, soil and sludge from the bottom of the harbor, creating a better flow of water for boaters and easing flooding problems.
Perhaps more importantly, the project will be a major benefit to many species of fish during the winter months – which is the main goal of the project. READ MORE in this week's Herald-Leader. To purchase an online version, click on e-edition at right.
Feuerbach; Lawson and Heiar win election
Bellevue City Council incumbents Gary Feuerbach and Darla Lawson retained their seats in Tuesday's municipal elections, while newcomer Jayson Heiar was also elected to one of the three open seats.
Feuerbach received the most votes with 279, while Lawson received 228.
Coming in with 227 votes was Heiar, who is employed as an officer with the Maquoketa Police Department.
Sabra Roling received 153 votes in the contest, while Bellevue Mayor Chris Roling came in last with 94.
All votes are unofficial until canvassed by the county. Look for officials results, comments and totals from all the races in eastern Jackson County in next week's Herald-Leader.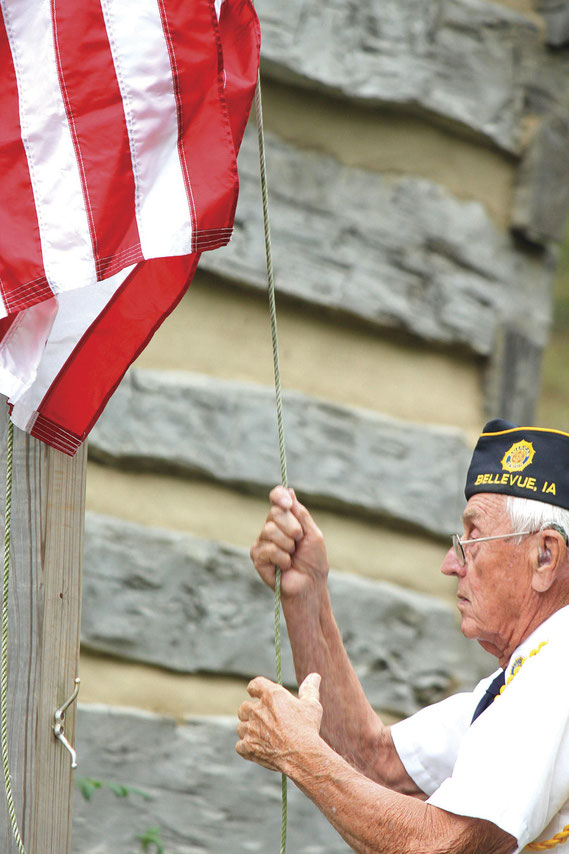 Veterans Day to be observed in Bellevue
For 95 years, the 11th hour of the 11th day of the 11th month has been a remembrance of those who served America in time of war.
But the original Nov. 11 Veterans Day commemoration began as a day to celebrate peace - the silencing of the guns of World War I, "The Great War," which claimed the lives of more than 15 million soldiers and civilians.
On that day in 1918, at the 11th hour, Germany signed an armistice with the Allied Powers - including the U.S., France, Britain, Japan and Italy - ending major hostilities in a war that nearly wiped out a generation of men.
A full peace was concluded the next year in France at the Palace of Versailles, and the first Armistice Day was proclaimed and celebrated by President Woodrow Wilson on the anniversary of the ceasefire: Nov. 11, 1919.
Known today as Veterans Day, traditional observances and events are held in memory of those who served our country from across eastern Jackson County.
Veterans Day ceremonies, conducted by Bellevue American Legion Post #273, will be conducted on Monday. Nov. 11 at 10 a.m. in the Bellevue High School gymnasium.
Featured speakers will include a handful of Bellevue-area Korean War veterans who recently participated in the Honor Flight program to Washington D.C.
The schedule of events for the Veterans Day program, which will be attended by both Bellevue and Marquette students along with the general public, includes a patriotic performance by the Bellevue High School Band, the advancement of flags by the Post #273 Color Guard, the reciting of the Pledge of Allegiance and the traditional Armed Forces Salute by the Bellevue High School Band.
Opening remarks will be given by Post #273 veterans Leonard Ernst and John Bohy.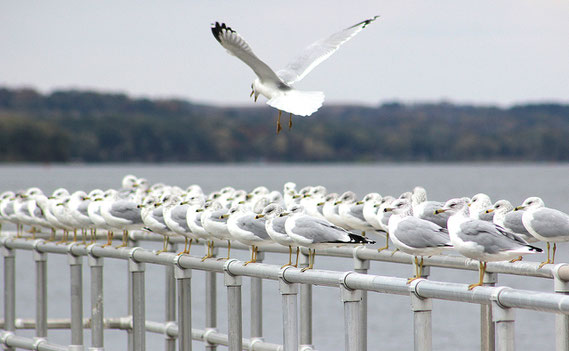 A Flock of Seagulls
The City of Bellevue has seen an influx of out-of-town tourists over the past few weeks.
They haven't done a lot of shopping on Riverview, but they have spent a lot of time at the waters near Lock and Dam 12 catching fish and flying around over the Mississippi River.
Large flocks of seagulls, according to Lockmaster Bill Hainstock are not an unusual sight this time of year. He said the large birds will most likely be moving on in a few weeks and will be replaced by Eagles.
Contents of Brandt's machine shop donated to Mississippi River Museum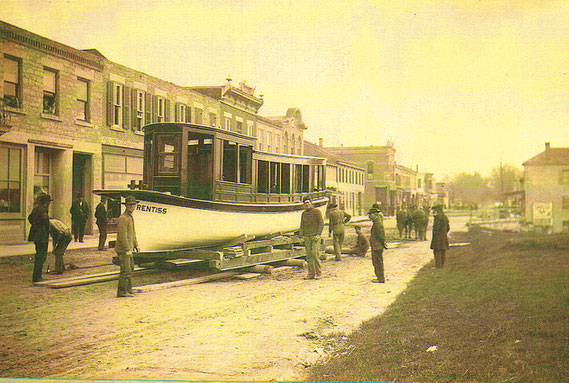 Bellevue century-old machine shop collection with a wealth of historical significance will be donated to the National Mississippi River Museum in Dubuque.
Jan Brinker, a first cousin to the late William Brandt (grandson of famous boat builder Joseph Brandt), has announced that the contents of the former Iowa Marine Engine and Launch Works building, located at 207 South Second Street, will be given to the national museum, which will build a separate display for the one-of-a-kind collection.
The building and its contents are extremely significant to Bellevue and the Mississippi River as the old limestone structure at the corner of Chestnut and South Second Street was the location where some of the first racing boat engines were built, and the location where the famous recording-breaking Red Top – which was the toast of racing boat enthusiasts from St. Louis to St. Paul in the early 1900s.
"We know there are people who wanted it to stay in here and be taken over by the Jackson County Historical Society, but we think this is the best way to pay tribute to the Brandt family ...
Farewell to a Riverboat Captain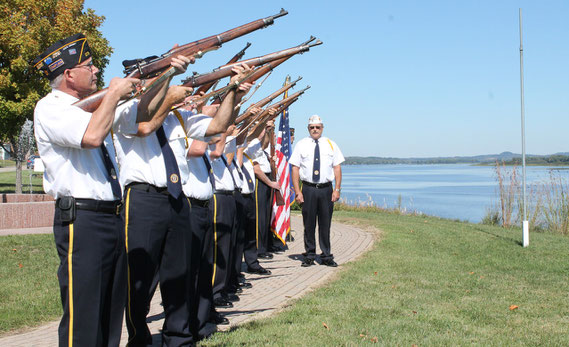 A special memorial service for the late Terry Putman was conducted Sunday in Bellevue overlooking the river where the longtime Riverboat Captain and fisherman spent much of his life.
Bellevue American Legion Post #273 provided the traditional 21-gun salute for Putnam, who was a veteran of the Vietnam War, while the Tugboat River Rat floated below with flag at half-mast.
Putman, age 65 of Bellevue, passed away from cancer and on September 2, 2013. The special private service for family and friends celebrated his life in a unique way.
He was born September 30, 1947 in Bellevue, the son of Edward and Angeline Putman. In 1966 , he served in Vietnam, seeing action in some of the most important battles of the war.
Twice awarded Purple Heart, Putnam spent many months in the hospital recovering from his wounds.
After the war, he returned to Bellevue and spent the next 40 years raising a family, building businesses and fulfilling his life-long dream of becoming a Riverboat Captain and piloting tows on the inland waterways. After retiring from his many years on the river, the Putnam home would become the daily meeting place for a group of friends that would last for decades.
Full slate of candidates for Bellevue council
With the deadline now passed to file for this fall's municipal elections, five candidates have emerged for three open seats on the Bellevue City Council.
Candidates who have filed papers to get on the Tuesday, Nov. 5 ballot include incumbents Gary Feuerbach and Darla Lawson, as well as newcomers Sabra Roling and Jayson Heiar. In a somewhat unique move, current Bellevue Mayor Chris Roling has also officially filed for one of the open council seats. READ MORE IN THIS WEEK'S HERALD-LEADER. (buy an e-edition or pick up a print edition today)
Backwaters Bicycle Shop brings 'em to Bellevue
When former Bellevue Mayor and longtime school administrator Virgil Murray took a test ride on a new bike from Backwaters Bicycle Shop a few years ago, he didn't come back for over an hour and a half.
"I thought he stole it," joked Mark Rogge, who has owned and operated the local bike shops now for about a decade. "But he came back with a huge smile and said it was the most comfortable bicycle he ever had the pleasure to ride  – now that's a great testimonial."
Backwaters Bicycle Shop, located at 305 and a half South Second Street not only made an impression on Murray, but on hundreds of other folks from Bellevue and across the states of Iowa, Wisconsin and Minnesota over the years. READ MORE IN THIS WEEK'S HERALD-LEADER ... click on e-edition at right.
American Queen locks through Bellevue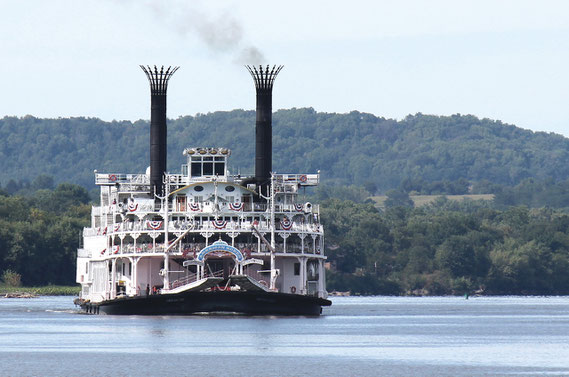 The massive steamboat known as the American Queen rolled down the Mississippi River from Dubuque to Bellevue last Tuesday afternoon to lock through on its nine-day journey to the Port of St. Louis, Missouri.
Lock and Dam #12 Lockmaster Bill Hainstock said the mighty paddle steamship, which was carrying 370 passengers, comes through Bellevue about twice each year and always turns a lot of heads.
On its journey through Bellevue, the music notes of "Take Me Out to the Ballgame" wafted from the giant ship, and scores of passengers came out on deck to get a brief peek at Bellevue. Read this week's Herald-Leader for more photos and information or suscribe to an e-edition today.
 


Jackson County's own "Duck Dynasty"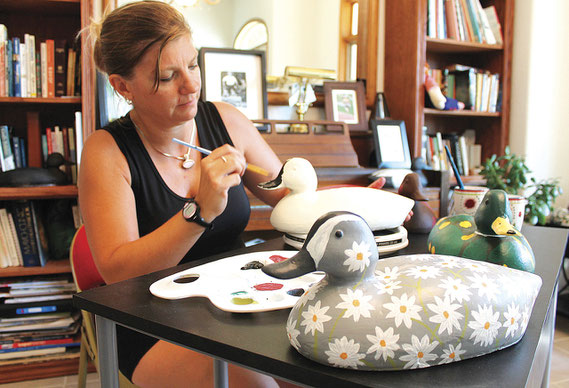 What started with a defective duck decoy has turned into a new and unique home business for Shannon Witt and her family of rural Bellevue.
A middle school math and computer teacher at Andrew, Witt created "Kaotic Ducks," and sold her first dozen creations at the arts show on the river during Bellevue's Fishtival Celebration just three weeks ago.
Now she has store owners in LeClaire and Galena who want to sell her creatively painted duck decoys, and she also has custom-made orders for various customers around Jackson County.
It all started when Witt's husband Darryn, a federal wildlife refuge officer on Upper Mississippi River .... READ MORE by subscribing to our e-edition at right)
Michels and his Magnificent Model T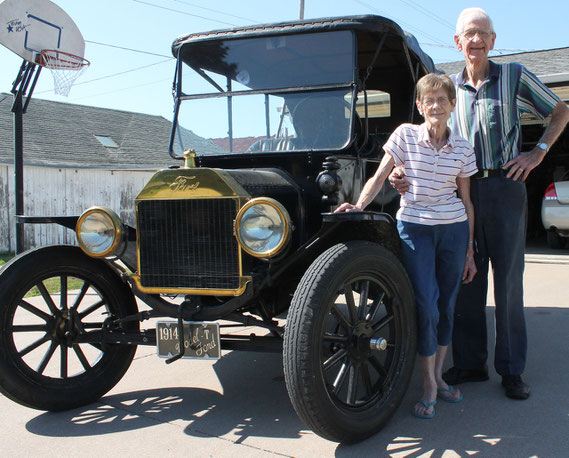 Bellevue's Don Michels said it's going to be tough, but once she turns 100 years old, it's time to let her go.
He's talking about his 1914 Model T, (of course), which he has owned now for the past 25 years. Most around these parts have probably seen he and the car regularly over past three decades driving in parades and town celebrations across eastern Jackson County.
"I always said when she turns 100, I'm selling," said Michels, who found the old Ford on a farm near Andrew back in 1979 and spent years restoring the old machine.  Read more on our e-edition ...